For the second straight year, On Top of the World in Ocala, Florida is the 55places Community of the Year. The community, known by residents as OTOW, becomes our second back-to-back winner of the award after The Villages did the same in 2014 and 2015, the first two years of the award.
For two years now, On Top of the World has consistently been the highest seller and most popular community on 55places.com, which goes a long way when considering which community is the best of the year. Besides sales and pageviews, we considered each community's placements on our previous 2020 awards as well as any improvements or renovations made in the community this year.
Of course, with 2020 being an unprecedented year, we also looked at how each community in our shortlist responded to the COVID-19 pandemic and resulting lockdowns. With many clubhouses closed and activities canceled, builders and homeowners' associations (HOA) had to adjust. Some began socially distanced driveway hangouts or daily dance patio dance parties, while others took their lifestyle online. While most communities on our shortlist pivoted well, On Top of the World matched them and claimed our Community of the Year award for a second straight time.
How the Amenities Stack Up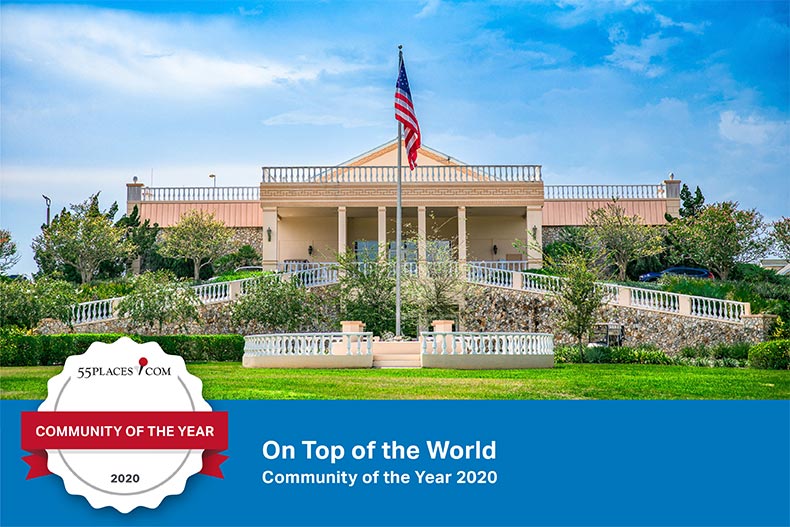 Likened to an adult Disney World, amenities in On Top of the World provide the space for lovers of indoors or outdoors, staining glass or woodworking, and golf or pickleball. Amenities in OTOW center around six facilities as well as acres of outdoor space.
Some clubhouses, like the Chandler Hills Community Center and Indigo East Community Center, are open just to residents of their respective neighborhoods. They include the basics found in 55+ clubhouses across the country like a fitness center, meeting rooms, and outdoor pools and spas.
There's also the Circle Square Commons, which is open to the public as well as OTOW homeowners. It has an education center, a fitness center and spa, a design studio, a cultural center, an ice cream shop, and a cafe and deli, all things very few communities can offer.
Then there's the more specialized buildings: the Arbor Club and Conference Center and the Hobby Building. The Hobby Building houses a card room, a billiards room, an arts and crafts studio, a woodworking studio, and a meeting room. The Arbor Club and Conference center was remodeled and modernized just a few years ago. It's a 10,000-square-foot facility with a state-of-the-art fitness center, an Olympic-sized indoor pool, an aerobics studio, an outdoor pool, and six tennis courts.
Finally, there's the Recreation Center, the largest facility, as well as the outdoor amenities throughout the community. Indoors, there are more fitness facilities, a restaurant, a library, and a 1,500-seat ballroom. The outdoor amenities make it easy for homeowners to stay active and enjoy the Florida sun. That includes courts for pickleball, shuffleboard, and basketball. There's also a softball field, mini-golf courts, a dog park, and gardening plots. That's not to mention the R/C field, two golf courses, and the recently renovated golf club.
On Top of the World Homes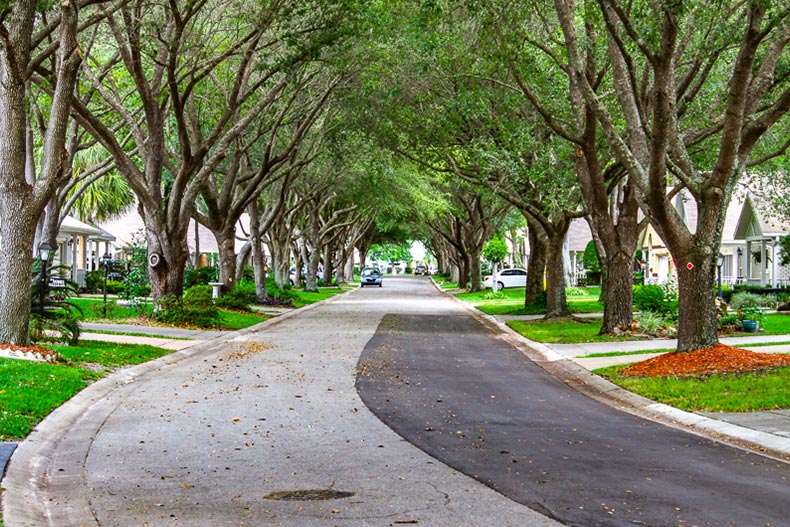 While OTOW's amenities and lifestyle options get a lot of the press, the home collections and floor plans are another big reason so many love the community. There are currently over 80 floor plans on offer, and they span attached and single-family homes. The wide range of price points, currently starting below $100k and going into the mid $400s, means there's a price and homestyle for plenty of different buyers and needs.
Construction on the community began back in 1981, but it continues today with plans to get to 10,000 homes. That means there's plenty of resale inventory and new homes available, so whether you want to buy resale or customize your own home, the choice is there. Homes are designed with aging-in-place in mind, including flex spaces, first-floor master suites, and open floor plans.
Lifestyle and COVID-19 Response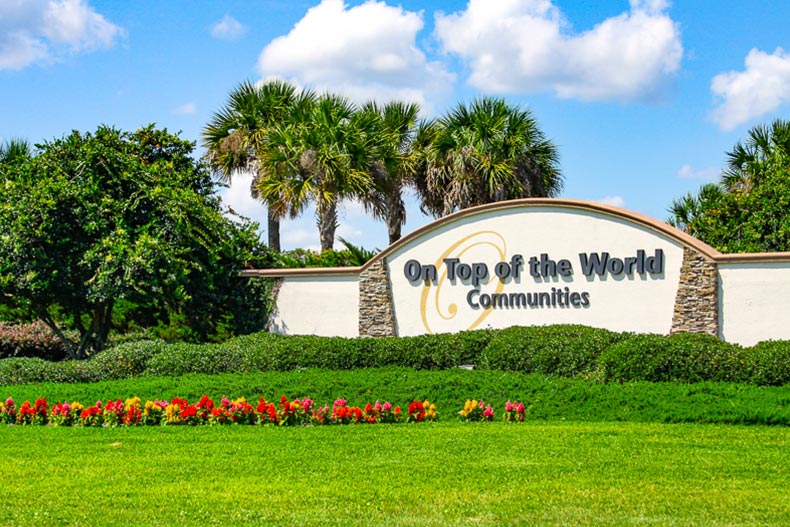 Most years, OTOW's lifestyle calendar is full of book clubs, golf outings, softball games, cooking classes, and so much more. Like communities across the country, those calendars were wiped clean in March as most of the country reacted to the COVID-19 pandemic. For many months, the community's indoor amenities were closed and outdoor amenities were limited to individual use.
Besides closing facilities, one of the first things OTOW did was bring its fitness courses online. Using Master the Possibilities, a non-profit lifelong learning center, community fitness instructors were able to bring fitness classes like walk fit, stretch fit, dance fit, and strong and steady, into the safety and comfort of residents' homes.
Later on in May, with the help of Marion County officials, the community was able to offer drive-thru COVID-19 tests. Testing was available at the Arbor Fitness Center on select dates and free to residents whether they felt symptoms or not.
Additionally, the community helped their own residents in need. Homeowners who could not shop for essentials themselves were gifted groceries, personal hygiene items, and hot meals. OTOW employees got together to provide the donations, which included hand soap, paper towels, snacks, and more. Several residents also banded together to create masks which were later donated.
So, as this year has upended almost everything, one part that remains is On Top of the World's continued place as the best 55+ community in the country.
Request more information about On Top of the World.
Methodology
To figure out the 2020 Community of the Year, we considered three major factors:
Awards placement: We looked at every award handed out by 55places this year and gave points to communities based on their position in each.
Updates and renovations: Any community that made upgrades to amenities or lifestyle options in order to make life in the community better received additional points.
COVID-19 Response: From there analyzed the the top community's response to the pandemic and local lockdown mandates.