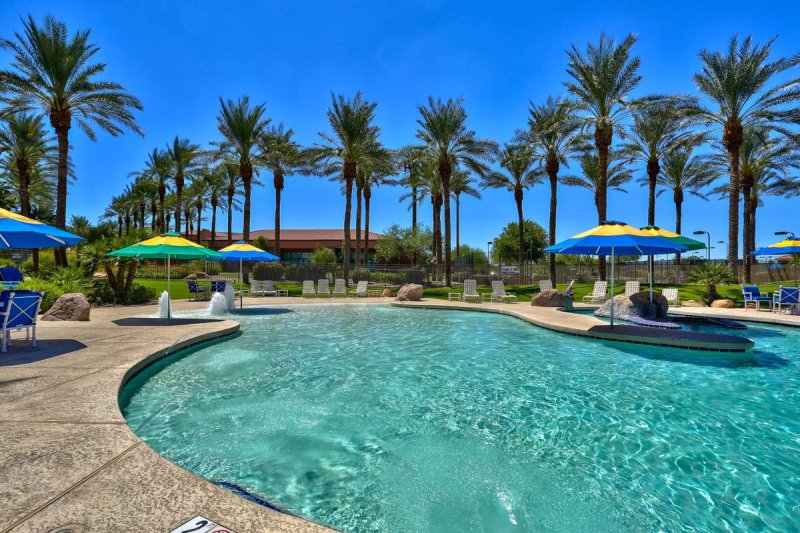 Active adults seeking to move to the sunny Southwest will find a variety of options. Looking to live a busy life surrounded in luxury? One popular community is Sun City Grand, an age-restricted community nestled in Phoenix's northwest valley. The builder is Del Webb and this is the company's third property in the Phoenix metro area; the sister sites are Sun City and Sun City West.
Building at Sun City Grand began in 1996 and was completed in 2005, making homes available on a resale-only basis. And the name fits in terms of amenities, grand it is. Del Webb's concept for this community was centered on active adult living in a self-contained community where residents have access to most anything they'd want or need.
Residences at Sun City Grand
With 9,802 homes, it is a large community, and there are a variety of homes to choose from to meet any desired lifestyle. A variety of homes are available including condos, villas and single-family homes, ranging from a modest 805 square feet to a spacious 3,000 square feet.
The homes are built with modern floor plan designs and finishes and, partially due to the expansive amenities available, are pricier than the two sister Sun City sites near Phoenix. While more expensive, there is a wide range of pricing to meet any budget. Sun City Grand homes for sale are priced from the mid $100s to the high $700s.
Amenities
As noted, there are a vast number of attractive amenities available at Sun City Grand and residents enjoy one or all of the many clubhouses located across the property. At the center of recreational activity in the community is "The Village Center". This center, which is a collection of buildings, houses most of the amenities to be found in this community.
The Adobe Spa and Fitness Center includes a state-of-the-art fitness center with an indoor lap pool, outdoor leisure pool, indoor walking tracks and dance/exercise studios. The Sonoran Plaza features a 9,000-foot ballroom, library, meeting room, and other multi-purpose rooms for hobbies and crafts. Also available is the Cimarron Day Spa where residents can relax and enjoy massages, facials and other treatments. There is an additional fitness center at Cimarron too, along with dance and exercise rooms.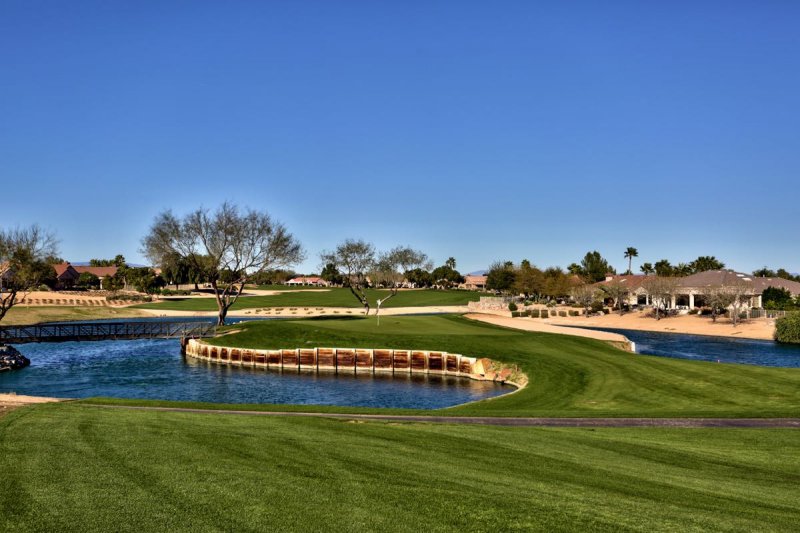 Recreation
With Arizona's warm temperatures, there is plenty for residents to do outdoors including several outside resort-style pools, tennis, horseshoe pits, softball field, pickleball, and bocce ball courts. Golfers will love the championship golf courses on the property – there are four of them in Sun City Grand, designed by PGA Hall-of-Famer Billy Casper and renowned golf course architect Greg Nash.
Those who are the outdoorsy-type and want to commune with nature will love Sun City Grand's walking and biking trails, RV parking, and fishing lakes. There is also a special park area for pets, so Fido can enjoy the outdoors too. As an additional perk, there is a large continuing education center at the Chaparral Center where active adults can take classes at the ASU Lifelong Learning Academy, study and listen to accredited speakers to learn about a range of topics, wherever their interests take them.
At the center, residents can look forward to interacting in group discussions about what they're learning. This center also houses a computer lab, coffee shop, a few game rooms and a billiards room. Socialization opportunities are plentiful. With more than 70 different clubs and classes that meet routinely, there are specialized groups that meet to enjoy any hobby, skill or interest. Residents looking for a support group will find many organized meetings as well.
As an additional touch, the Village Center has a lovely landscaped courtyard and even cascading waterfalls. Not to be outdone, the property even has its own visitor's center and TV station located at the Palm Center. Sun City Grand's management offices are also housed here.
Looking to enjoy a busy social calendar in a comfortable setting with just about any amenity you can hope to find? The designers of Sun City Grand have done their homework to make this community a very active lifestyle in an age-restricted setting.