Dave Schreiner, a former Del Webb executive, has over 20 years of experience planning, developing and operating active adult communities. His work has given him unique insight into the challenges and rewards of active adult living. Dave currently is a Principal with Mature Market Strategies consulting firm. Please post any questions to Dave in the comments section at the bottom of this article.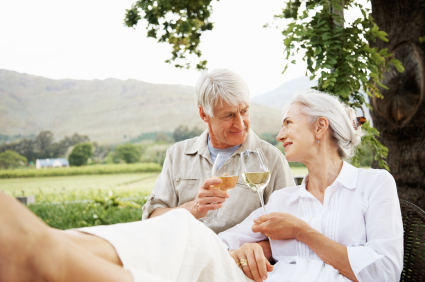 A little soul searching, research and organization can help you create the retirement of your dreams.
Years ago, you'd have to dodge the Big Wheel, step over the snow shovel and sift through your growing collection of soccer cleats, Popsicle sticks and Sponge Bobs to find the half-inch open ended wrench, critical to that leaky toilet repair. Today, you breeze confidently over a swept garage floor to a clean workbench where your wrenches are all lined up longest to smallest on your pegboard right next to the channel locks. Now that the children are off to college, it's amazing what a little more free time on Saturday morning will do for your efficiency.
Why not bring this new productivity to your life planning. As you move from the life stage driven by your children and career, to a time where you'll have more discretion in how you allocate your time and talent, a little organizing can go a long way. Here are some simple suggestions that can help position you for continued life satisfaction.
First, clear your mental decks of focus and time stealing distractions. Embrace the electronic financial world. Pay your bills on-line and manage your money electronically. Go low maintenance. Select easy care fabrics, less needy landscaping and actually let the dishwasher wash the dishes. Buy in bulk. Combine large lot buying with the free food samples in some warehouse stores and you double up on your time savings.
Now that you've freed up some thought capacity, you are ready to inventory and prioritize what's important to your life satisfaction. Reflect on what really makes you happy. Re-visit that legendary bucket list. Be careful not to follow the herd. Not everyone is as fulfilled playing golf as your author. Consider your spousal and family relationships, your desire to give back, hobbies, vacation activities you've enjoyed, curiosities, your faith, the role of employment, health and fitness goals.
You and your partner will likely have three lists: yours, your partner's and the two of you together. These lists should likely be weighted: 25, 25 and 50 percent. With a good grasp of what might be the keys to your life satisfaction, it's time to explore, try and test your initial priorities. Websites such as 55Places allow you to search out locations and communities that might meet your needs. However, it is important to visit and experience those communities that generally meet your needs and desires. It's very difficult to get the whole picture from photos and descriptions.
Many active adult communities have programs that allow you to stay for a short time and experience the lifestyle. In other areas there is a ready supply of rentals. It can be very illuminating to vacation in an area with potential. It's been said by Del Webb "People make the community". The super glue that will hold your life satisfaction together will be the personal relationships you nurture. You'll need to get out and meet the locals to fairly evaluate your chances of true life satisfaction. Now that you've developed your personal life satisfaction hypothesis, tested it through visits and encounters, you are ready to make a relocation decision.
This decision should be this simple. How can you most efficiently meet your life satisfaction needs? Now, it's back to sites such as 55Places where you'll conduct a new search based on your lifestyle testing. The Advanced Search link, found at the top of the home page on 55Places.com, will be very helpful as you try to narrow your choices. Once you have a short list of communities that meet your needs, you'll start shopping for a home, a location and the lifestyle you want.
Happy lifestyle shopping! It's been my experience that true lifestyle satisfaction emanates not from the home selected but from an organized process of reflecting on what drives your happiness, discovering it and buying it at a fair price.