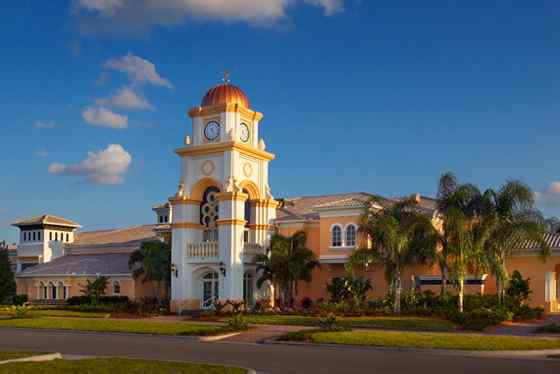 While the Orlando-Kissimmee area may be best known for its theme parks, it is also a prime location for popular active adult communities. The semi-tropical climate and numerous attractions make the area an ideal spot for many retirees, and retirement-friendly state tax laws help them live comfortably on a fixed income.
Sunny Climate
Located in the heart of Central Florida, Orlando and Kissimmee are set in a region that is relatively flat with numerous lakes and wetlands. There are essentially two seasons in this area. From May through September, the weather is hot, humid, and rainy. (Hurricane season is also during this period.) Daytime temperatures are in the 90s with nights in the mid-60s, although the humidity often makes it feel warmer. The rest of the year is dry and warm with days in the low to mid-70s.
World-Class Theme Parks
Many theme parks are found in Orlando and Kissimmee. Most notably, the area is home to Walt Disney World Resort, Universal Orlando Resort (Universal Studios), and SeaWorld Orlando. Both Walt Disney World and Universal Orlando have several distinct parks, such as Epcot or the Animal Kingdom at Disney World or the new Wizarding World of Harry Potter at Universal Orlando. Other lesser-known area theme parks include Gatorland, Legoland, and The Holy Land Experience.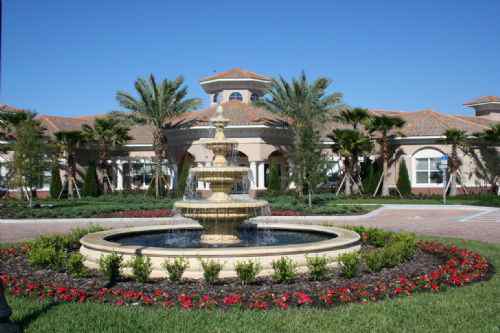 BellaTrae by Del Webb is a resort-style community just 5 miles south of Disney World in Orlando.
With so many theme parks, its no surprise that the Orlando-Kissimmee area is popular with tourists. Although travelers flock to the region year-round, peak tourist seasons revolve around summer (June through August), spring break (March to April) and winter holidays (mid-December through early January). Visiting or local retirees can often enjoy the area's tourist attractions with less crowds if they avoid going during these peak periods.
Laid-back Recreation
Aside from theme parks, the Orlando-Kissimmee area offers many other recreations. Old Town Kissimmee features a charming historic shopping district with several specialty shops and restaurants. Downtown Orlando is an urban oasis with an exciting nightlife, shops and restaurants, and various cultural attractions. Sports fans can cheer on the Orlando Magic, while music lovers can enjoy live performances at venues such as the Amway Center or through the Downtown Concert Music Series.
Tax-Friendly Lifestyle
Florida is often considered to be tax-friendly for retirees. The state has no income tax, inheritance tax, or estate tax. State and local sales tax can be high, but food and both prescription and non-prescription drugs are exempt. There is property tax, although homeowners are allowed a homestead exemption.
Active Adult Communities in the Orlando-Kissimmee Area
While prices vary in different neighborhoods, retirees can often find affordable housing in the Orlando-Kissimmee area. Active adult communities in the region include both age-restricted developments, like Solivita and Del Webb Orlando, and active lifestyle communities such as VillageWalk at Lake Nona. Whether planning a vacation or looking for a place to relocate during retirement, the Orlando-Kissimmee area is a great destination in the heart of the Sunshine State.