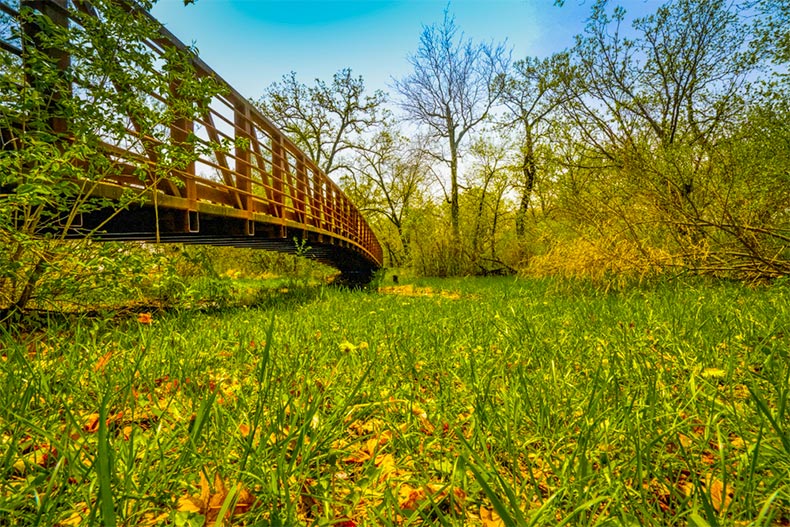 All throughout the year residents of Illinois are treated to an abundance of outdoor recreational activities. In the entire state you will fine a variety of fun and unique outdoor pastimes to partake in, including hiking trails, kayaking, and fishing. Fortunately, several active adult communities are just minutes away from these scenic spots, allowing for retirees and nature lovers to truly live a lifestyle that embraces the outdoors. Read on to hear some of the best outdoor recreational activities in Illinois.
The Parks and Forest Preserves of Naperville
The city of Naperville is filled with beautiful parks and forest preserves to wander through. Located in the heart of the downtown area is the Naperville Riverwalk. Built in 1981 to commemorate the city's 150th birthday, the Riverwalk offers visitors the chance to walk or jog along a path that includes art installations and scenic nature views. The area is also home to popular festivals, picnics, and outdoor concerts in the summer.
The Naperville Riverwalk isn't the only highlight in town. Naperville has a number of parks including Central Park, DuPage River Park East, and McDowell Grove Forest Preserve. While each area includes walking trails and picnic areas, McDowell Grove Forest Preserve provides visitors with a number of recreational activities to enjoy, such as fishing and boating courtesy of the DuPage River
Nearby Active Adult Communities
Three Oaks Recreation Area in Crystal Lake
Crystal Lake's Three Oaks Recreation Area isn't just your standard recreation facility. The area features a number of great activities, including walking, hiking, and biking trails. For those wanting to get out on the water, Three Oaks allows visitors to rent rowboats, canoes, kayaks, paddle boats, paddle pontoons, and sailboats. Whatever your preferred watercraft might be, it's easy to get on the water and enjoy the day. Catch and release fishing is also available.
One distinct feature of the facility is its scuba diving zone. Depending on their experience, divers can either go out on their own or go out with an instructor to learn the ropes. From there, you'll be able to go under and get up close with a number of aquatic species and plant life.
Nearby Active Adult Communities
Baker's Lake and Crabtree Nature Center Forest Preserve
Located in Barrington, Baker's Lake is described as a bird lovers paradise. The area includes an island that is home to a heron rookery which houses bird species like the great blue heron, great egrets, and the state-endangered black-crowned night-heron. Visitors are encouraged to bring their binoculars along to hopefully catch a glimpse of these unique species. However, Baker's Lake isn't the only recommended place in Barrington when it comes to bird watching
Crabtree Nature Center Forest Preserve provides over a thousand acres of land that is covered in forests, prairies, and marsh. Filled with several miles of self-guiding trails, visitors are encouraged to be on the lookout for the many unique species of birds that reside in the preserve. Over 260 species of birds have been recorded in the area making it a top destination to check out if you're into bird watching. Otherwise, the site also includes an outdoor nature play area for grandkids and a nature exhibit that houses other wildlife and native plants.
Nearby Active Adult Communities
Chain O' Lakes State Park
For those in the Fox Lake area, Chain O' Lakes State Park is definitely worth a visit. The park borders three natural lakes and the Fox River, which connects the other seven lakes that make up the chain. In total, there's 6,500 acres of water and 488 miles of shoreline to explore, which provides for a great variety of fish to catch. The park also features seven picnic areas and four trail systems.
Camping is popular at Chain O' Lakes thanks to the over 230 reservable campsites and cabins. While staying on the grounds, visitors can register for hunting excursions. Animals for hunt include dove, waterfowl, deer, and pheasant.
Nearby Active Adult Communities