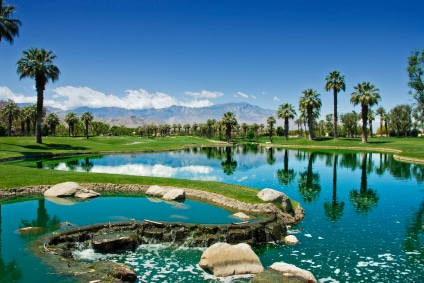 Palm Springs is a desert oasis that continues to draw vacationers and retirees year after year. This Southern California hot spot features a variety of recreations, including spectacular golf courses, hiking trails with breathtaking views, unique shopping centers, fine restaurants, and many cultural attractions. Active adults who wish to call Palm Springs home will be happy to learn that there are several impressive resort-style 55+ communities in the area as well.
Palm Springs Climate & Landscape
Set in the Coachella Valley, Palm Springs is surrounded by mountains: San Bernardino Mountains to the north, Little San Bernardino Mountains to the south, Santa Rosa Mountains to the south, and the San Jacinto Mountains to the west. The area lies approximately two hours east of Los Angeles and about two-and-a-half hours northeast of San Diego. Palm Springs is also just west of the sprawling Joshua Tree National Park and southwest of the San Bernardino National Forest.
The Palm Springs area is a true desert with a hot, dry climate and little rain. Temperatures in the summer can rise upwards of 105 degrees during the day, and often stay over 80 degrees at night. Yet the winters in Palm Springs are a comfortable 70 to 80 degrees, dropping to the mid-40s in the evenings. This makes Palm Springs an ideal location for a winter getaway.
Tourism is the largest part of Palm Springs' economy and as a result, the area is teeming with fabulous resorts, shopping centers, restaurants, and recreational attractions. Yet, the atmosphere in Palm Springs is different than that of other desert hot spots, such as the bustling Las Vegas Strip. Though home to a variety of posh resorts, Coachella Valley embraces a laid-back, family-friendly attitude that is appealing to many active adults.
Palm Springs Attractions
Golf is a major attraction in Palm Springs. With well over 100 golf courses in the Coachella Valley, including both private and public courses, golf enthusiasts are sure to find their own favorites. One of the most impressive golf courses in the Palm Springs area, The Golf Club at La Quinta, is located within the Trilogy at La Quinta active adult community. This 18-hole championship course has been a stop on the 2003, 2004, 2005, and 2006 PGA Tour.
Hiking is a popular Coachella Valley pastime, as are tours by horseback, jeep or mountain bike. The Palm Springs Aerial Tramway provides amazing mountain views from its rotating tram cars. Local hot air balloon rides are available as well. While those who are more adventurous may opt to take in the views while hang-gliding or skydiving.
When relaxation is the goal, Palm Springs has everything to put sun-lovers at ease. Whether vacationing at one of the area's luxurious hotels or relocating to a resort-style active adult community, it's easy to find a sunny poolside deck under an azure sky. Spas are also plentiful throughout Palm Springs, offering rejuvenating massages and revitalizing mineral soaks.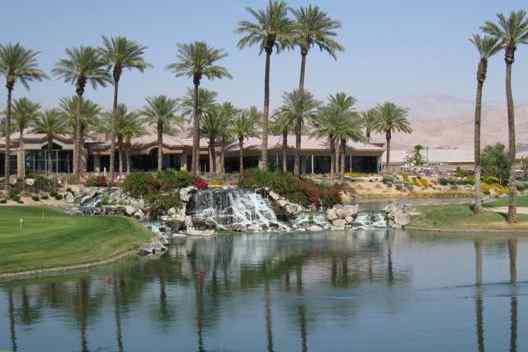 Intimate boutiques, fine restaurants, and cultural attractions are found at every turn. Downtown Palm Springs' weekly VillageFest street fair offers an assortment of artisan crafts. Performing arts and seasonal festivals are also popular throughout Palm Springs. Active adults will enjoy the venerated Palm Springs Follies, self-described as a "Broadway-caliber celebration of the music, dance, and comedy of the 40s, 50s, and 60s with a cast old enough to have lived it!"
For those who want to call the Palm Springs area home, there are several fabulous nearby active adult communities to consider. In addition to the previously mentioned Trilogy at La Quinta, active adults should check out Sun City Palm Desert in Palm Desert, Sun City Shadow Hills in Indio, and Terra Lago, also in Indio.