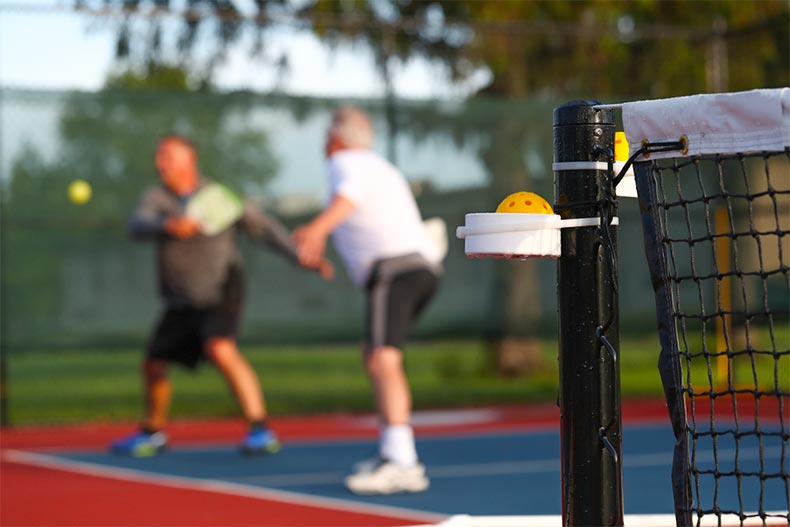 Pickleball is becoming one of the most popular competitive and recreational sports around, and the first World Pickleball Open (WPO) will take place at PGA Village Verano in Port St. Lucie, Florida. Registration opens on August 3, 2019, and players can elect to compete in singles or doubles tournaments. The WPO will also feature exhibitions and clinics as well as demonstrations and other pickleball-related events.
World Pickleball Open Details
The World Pickleball Open will begin on Wednesday, December 12, 2019, and run until Saturday, December 15, 2019. It's a USAPA Tier 4 Sanctioned Event, and competition will be organized according to skill level. Professionals and amateurs are invited to participate, and the event is being organized by Players International Management, Inc. (PIM). They have put together over 30 state, national, and international tennis and pickleball events in collaboration with the United States Tennis Association and International Tennis Federation.
This is the first year the World Pickleball Open will be held, and organizers are expecting between 200 and 300 players in 20 skill level divisions. Events will include Men's Pickleball, Women's Pickleball, and Mixed Doubles. Around $15,000 in prize money is at stake.
Participants who register by October 31, 2019, will receive a free ticket to the 2020 Delray Beach Open, a popular event on the professional men's tour that's held in February and hosted by VITACOST.com.
PGA Village Verano: An Ideal Location
The Pickleball Center at PGA Village Verano in Port St. Lucie is the perfect location for such an important inaugural event. Kolter Homes is constructing a site that's expected to be the largest private pickleball center in south Florida once it's completed. The Pickleball Center is expected to open in October, and it'll have 26 pickleball courts and a center-court-style championship setting for tournaments. Multiple viewing areas will be available with plenty of seating, and there will also be an event lawn with a pavilion area.
Buyers looking for Port St. Lucie real estate have found an outstanding master-planned community at PGA Village Verano. It's not just the pickleball. New and resale homes are available starting in the low $200s, and buyers can choose single-family models or attached villas.
Floor plans range from 1,416 square feet to 3,080 square feet. The community has a state-of-the-art fitness center, a sprawling clubhouse, and the PGA Golf Club, which covers 35 acres and includes 54 holes, 100 practice stations, and an area for putting and chipping. The PGA Historical Center Museum is onsite, and there are tons of classes, clinics, and training available to golfers at every level.
While the master-planned community is without age restrictions, active adults looking for a 55+ community can select a home in Cresswind at PGA Village Verano. With 243 single-family new construction homes, buyers can access all of the amenities and benefits of the larger community while being surrounded by neighbors in their own age group.
PGA Village Verano and its Cresswind 55+ community are attractive options for buyers hoping to begin a Florida retirement that offers ample opportunities for golf, tennis, and pickleball. It's designed to feel like a country club, and residents get together for activities and events such as art classes, water volleyball, card nights, and group outings.
John Manrique, Vice President of Marketing for Kolter Homes, says the company is honored that PGA Village Verano was chosen to host the first-ever World Pickleball Open. He said: "With the growth and popularity of the sport, pickleball has become an important amenity in our communities across the Southeast, and we are excited to work with Players International Management to bring together a wide range of players to deliver a fun, entertaining experience for our residents, the community of Port St. Lucie, and pickleball fans."
Pickleball's Growing Popularity Among Active Adults
As the fastest growing sport in the U.S., pickleball has become a must-have amenity at retirement communities in Florida and across the country. It's a fun and easy game to play for people of all fitness levels. The sport can best be described as a blend of tennis, ping pong, and badminton.
According to the USAPA, pickleball's professional association, the sport started when the game's first players found themselves with a badminton court and some ping pong paddles. Rules were established and the game was started. Today, there are over 4,000 pickleball courts throughout the U.S., and it's even growing internationally, especially in countries like Canada and India.
To register for the World Pickleball Open or to find out more information about tickets and event logistics, visit the dedicated website (worldpickleballopen.com). The opening event on December 12 is a series of clinics and exhibitions hosted by Engage Pickleball, a company that manufactures pickleball paddles.