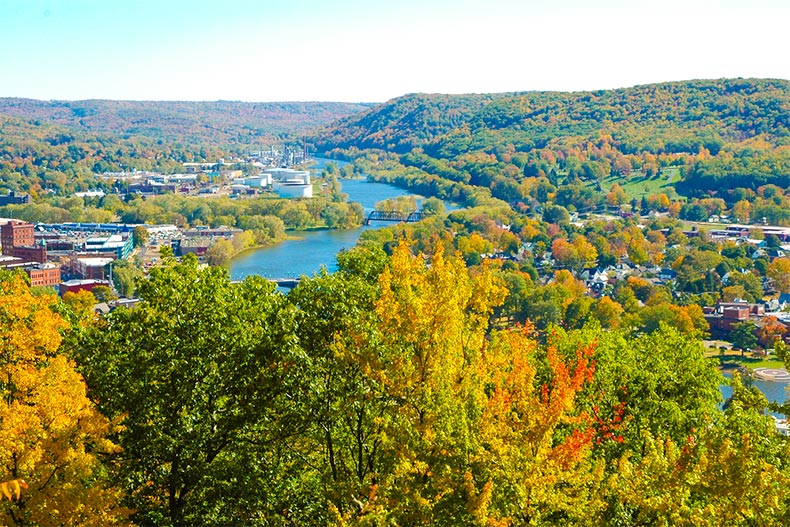 If you find yourself shying away from friends that live to golf, you are not alone. Although it is certainly a healthy and rewarding pastime, this lifestyle does not appeal to all retirees.
Golf course communities can be beautiful, but homeowners that don't play have real concerns about living in these neighborhoods. First off are the fees that these communities charge for course and clubhouse maintenance. These usually apply to all residents, whether they use these facilities or not.
Golf courses also attract crowds, especially when the weather is cooperating. In addition, houses near the fairways are at risk for flying golf balls, which can break windows in homes and cars. Another drawback is the lack of privacy which comes when golfers wander into your yard.
Of course, avid golfers care little about all this, but for others it's a non-issue if they choose active adult communities without golf courses. There are plenty near Philadelphia that do not offer golf, and have a wealth of other amenities. Read on to see where you can find these kinds of homes for sale in Philadelphia.
Wildflowers at Hillview - Coatesville
This Orleans-built 55+ community is all about choices. With 672 single-family and attached resale homes, Wildflowers at Hillview has over 20 floor plans, starting at 1,332 and going up to 2,311 square feet.
The ranch-style villa homes include two bedrooms and bathrooms, and attached two-car garages, with optional second floors. The multi-level townhomes have two or three bedrooms, one-and-a-half to two-and-a-half baths, and attached garages. The newer single-family homes have two or three bedrooms and bathrooms as well as attached two-car garages.
Wildflowers is a standout because it has five different recreation buildings. The Cabin is great for hanging out, with two game rooms, flat-screen TVs, plus bocce and horseshoes out back. There is also a fitness center, complete with indoor and outdoor pools & spas.
For meetings and activities, residents head over to The Lodge, which has a reception hall and a tech center. The Cottage is a quaint, historic building where small groups gather. The largest is The Clubhouse, which houses a ballroom and catering kitchen, along with game and craft rooms.
Jennersville Farm - West Grove
Jennersville Farm is a gated, affordable 55+ community that has 100 new and resale attached homes located about 45 miles west of Philly.
Villa models range from 1,480 to 1,800 square feet and have two bedrooms, two or two-and-a-half bathrooms, and an attached one or two-car garage. The Carriage homes are two-unit structures, ranging from 1,600 to 2,450 square feet, with one to two bedrooms, two or three bathrooms, and attached two-car garages.
Jennersville Farm has a vibrant clubhouse with a cozy community room, a recreation room, a catering kitchen, and a bar. There is also an exercise room, a library, and billiards. The property is right by Jennersville Road, which is packed with restaurants, grocery stores, banks, doctors' offices, and other services.
Downing Forge - Downingtown
Downing Forge is a close-knit, 55+ community on a well-landscaped property near King of Prussia. It has 112 single-family, resale homes coming in six floor plans.
These good-sized homes range from 1,900 to over 2,600 square feet, with two to three bedrooms, two or two-and-a-half bathrooms, and garages. All include a first-floor master suite and a comfortable family room. Upgrades may include fireplaces and second-story lofts.
The private clubhouse has a heated outdoor pool and spa, plus an exercise room and tennis courts. The homeowners keep busy with many activity clubs and groups, including coffee & crafts, cards, knitting, tennis, mahjong, and the TGIF club.
Meridian of Valley Square - Warrington
Meridian of Valley Square is perfect for downsizing, with 200 resale luxury condos built on 32 pristine acres. These generously sized units are in four sections: The Executive Series, Ambassador Series, Premier Series, and Presidential Series.
There are a total of 12 floor plans from 1,651 to 2,850 square feet of living space. Most models have two bedrooms and bathrooms as well as attached one-car garages. Some also include third bedrooms, dens, studies, patios, or balconies.
There is a large clubhouse with activity and meeting rooms, plus a heated outdoor pool. The community grounds are especially nice and include scenic ponds, lighted sidewalks, walking paths, and a gazebo.
Heritage Creek - Warminster
If you want almost every amenity available other than a golf course, Heritage Creek is for you. It has 517 resale condo and single family homes located about 30 miles north of Philadelphia.
The units range from 1,217 to 1,685 square feet and have two bedrooms, two bathrooms, and upscale master suites. The single-family homes range from 1,550 to 2,604 square feet with two to three bedrooms, two to three-and-a-half baths, first-floor master suites, and attached two-car garages.
The centerpiece of Heritage Creek is The Marquis Club and Spa, a 15,000 square-foot recreation facility that features and indoor pool & spa, locker rooms, sauna, and an exercise room. There is also a ballroom, several activity rooms, tennis, and pickleball. Some of the most popular activities here include chorus, a singles' group, photography, Aqua Zumba, Oktoberfest, scrapbooking, and yoga.