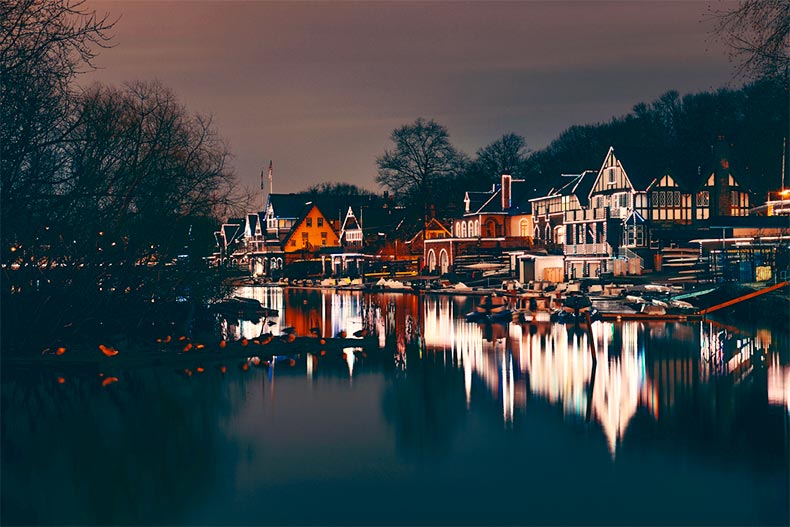 It's no surprise that the biggest city in Pennsylvania has some of the most incredible holiday traditions and attractions on the East Coast. The area's first settlers put down roots near the Schuykill (pronounced SKOO-kill) River around 1643, and in 1682, William Penn and others established the city of Philadelphia. Penn and his followers forged the path towards this country's independence, making Philadelphia one of the nation's most significant city during the American Revolution.
Many of Philly's best-known historic sites have been restored over the years, and turn into festive attractions that active adults and their families can enjoy during November and December. The city is also a center for commerce, and with cultural landmarks like The Philadelphia Museum of Art, there are many modern ways to celebrate the holidays.
Here is a short list of some of Philadelphia's best-loved contemporary and old-fashioned holiday activities.
Macy's Christmas Lights Show
The Macy's Christmas Lights Show is one of Center City's most famous holiday events dating back to the 1950s. It takes place in the historic Wanamaker Building, and features the stunning "Macy's Magic Christmas Tree" with over 34,000 sparkling LED lights. The displays feature reindeer, snowflakes, and over 100,000 more shining lights and holiday images.
There is also a charming Dickens Christmas Village on third floor, Market Street. It all runs through December 31 with daily shows at 10 a.m., noon, and 2, 4, 6, and 8 p.m. A good thing to know is that the noon show features live music from the Wanamaker Grand Organ.
Blue Cross RiverRink Winterfest
One of the city's most breathtaking holiday activities is RiverRink Winterfest. This Olympic-sized ice rink is right by the Delaware River and visitors of all ages enjoy gliding over the ice, strolling through the majestic winter garden, and seeing the beautifully lit Christmas tree.
Non-skaters can hang out by the comfy warming cabins and fire pits, and enjoy burgers, pizza, craft beers, and cocktails. There is also a kids' lodge and special events like visits from Santa and a New Year's Eve Party on Ice. Skating sessions start at $4 per person, and skate rentals cost $10.
Boathouse Row Festival of Lights
Boathouse Row is a historic group of homes that were built in the 1800s and are poised on the Schuylkill River next to the Philadelphia Art Museum. Although no one lives in the houses, these 15 buildings host rowing clubs and social groups. Many important boat races like the Stotesbury Cup take place on the nearby water.
The Festival of Lights glows every night through the holiday season. The boathouses come alive with a vibrant light show, with different displays for Hanukkah, Christmas, and Kwanzaa. To see the show, visitors can walk around the Philadelphia Museum of Art or down Martin Luther King Jr. Drive. The lights go on each evening at 6 p.m., and the magical views are accompanied by holiday music through December 31.
One Liberty Observation Deck
This is one of Philly's biggest holiday draws, located in the Liberty Place complex in Center City. The observation deck is at the top of a skyscraper and offers unbelievable, 360-degree views of the city. Visitors can take the state-of-the-art elevator up 57 stories to the top and gaze out for miles across Philadelphia.
During the holiday season there is a whirlwind of activities for everyone. This includes extravagant displays of "Miracle on South 13th Street," the Mummer's Parade, and The Nutcracker ballet. There are also special events, like a "Meet & Greet with The Grinch," an ugly sweater party, and a magnificent "Midnight from the Top" New Year's Eve party.
Dilworth Park
Dilworth Park, a recently renovated public park, is just west of City Hall. Its designated as Philadelphia's Center Square. There's a lot to do here, including an outdoor ice skating rink and cabin with snacks and drinks, and the Wintergarden season greenery and lights display, which are both open throughout February.
The rink features "sled skating," for children and adults with disabilities. Dilworth also goes all out with a fantastic holiday lights show and the Made in Philadelphia Holiday Market, which features local crafts. Skating starts at $5 per person, and skate rentals cost $10.
Mummer's Parade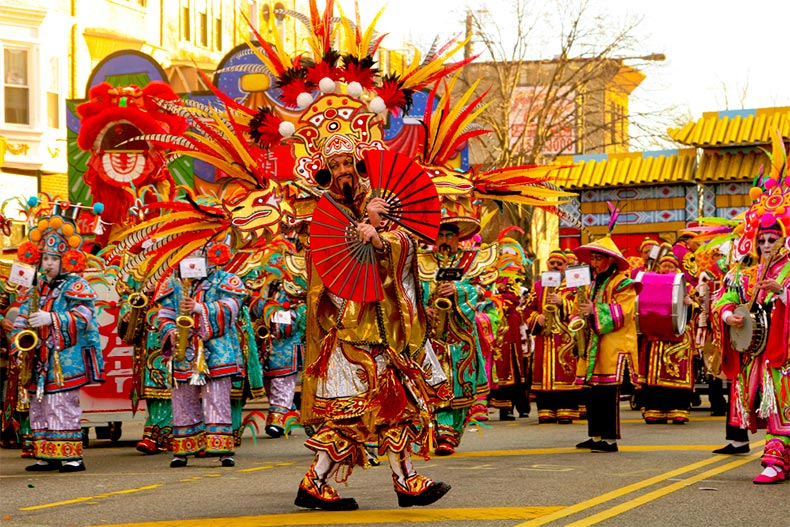 All Philadelphians are familiar with the mummers but if you aren't, their parade is one of the oldest in the country. So what is a mummer, anyway? Their history dates back to early 18th and 19th century England, when masked actors celebrated Christmas the year's end. In 1790, President George Washington brought the celebration to Philly when he requested mummers to perform at his home. Their popularity grew, and the very first city-sponsored Mummers Parade took place in 1901.
It is held every year on Broad Street starting 9 a.m. on New Year's Day. The procession includes around 10,000 women and men decked out in some of the most mind-boggling costumes you will ever see. It all ends at with a big finale at the Pennsylvania Convention Center. Tickets for seating at Independence Visitor Center and City Hall are available here.