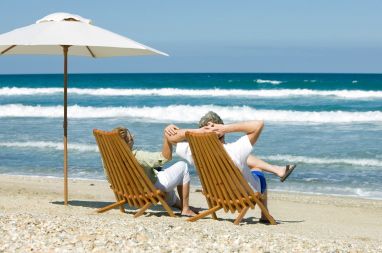 The United States has several terrific options when it comes to which state to retire in. When we polled our active adult readers about their retirement preference, they chose the classic retirement destinations in the country.
Florida and Arizona came in first and second place with 39% and 16% of the vote, respectively. That much should not be surprising, but right on their heels are California (11%), New Jersey (6%), with the remainder (26%) opting for other states.
So why are these states consistently rated as the top retirement destinations in the country?
Florida remains in the top spot, a space it's occupied virtually since it became a state. The Sunshine State's reputation as a retirement haven is not simply a tired cliché, but a reflection of its tax-friendly policies, agreeable weather, modest home prices, and diversity of attractions.
Tax friendly policies allow active adults on a fixed income to make the most out of their money. First of all, Florida is one of seven states without an income, estate, or property tax. Although counties can enforce their own property tax (and all of them do), the burden is eased with several exemptions, including one that allows the first $50,000 of a home's value to be tax exempt. Florida residents are also eligible for the homestead exemption, which would not allow the assessed value of a home to rise more than three percent per year.
That leaves more cash for the golf course, and Florida, with more than 1,300, has more of them than any other state in the country. With winter lows of 75 degrees and summer highs of 89 degrees, residents can play year-round. Water lovers have the Gulf of Mexico to the west, the Atlantic Ocean to the east, and lagoons, swamps, and lakes scattered across the state. From the glamorous South Beach in Miami to the quiet waterfront town of Seaside, Florida represents a wide range of tastes and styles.
Although Florida has more active adult communities than any other state, none has attracted more attention than The Villages. With an estimated 115,000 residents (that's roughly the size of Lansing, Michigan), over 400 holes of golf, and more amenities than any city per capita, The Villages has become the standard bearer for 55+ communities.
Another popular retirement destination, Arizona came second in our poll with 16% of the vote. Arizona is a historically prevalent retirement state thanks to its climate, cost of living, jaw dropping scenery, and for its vibrant cities.
Most active adult communities in Arizona have homes starting in the $100,000 range but can climb up to over $1 million. One doesn't even have to live in sand swept desert to get these prices, as the average home price in Tucson and Phoenix are well below $200,000. The home prices, combined with the very low income, property, and pension taxes allow active adults to spend more money on travel and leisure.
Living in Arizona is more than just about saving money, it's about living in a state that has both urban vibrancy and outdoor opportunities. Flagstaff has an abundance of historical sites and museums, while Sedona is a well-known location for spiritual retreats and its historical downtown, all the while bursting with radiant colors. Of course, Phoenix and Tucson have well-established entertainment options, while Scottsdale was voted as being the second best city for foodies in the country.
With a hot and dry climate, most of the state has weather that's perfect for exploring the innumerable parks, fishing in sparkling lakes, and discovering new hiking trails. Those seeking a more dynamic climate will enjoy living in the Tuscon or Sedona area, whose higher elevations give it a more diverse temperature range.
Arizona also has the distinction of having hosted the first active adult community in the country: Sun City. Del Webb began development on Sun City in 1960 and, 18 years later, had over 27,000 homes that attracted retirees from all around the country to discover this new concept in housing communities. Visitors were highly impressed with the expansive amenities that include eleven golf courses, seven recreation centers, and even an on-site hospital. Now, several decades later, Arizona has nearly 100 active adult communities, all inspired by the original 55+ community.
California's popularity as a retirement destination is due to its pleasurable climate, landscapes that range from deserts to beautiful beaches to majestic mountains. Palm Springs has a worldwide reputation as an adult playground, while Los Angeles and San Francisco offer some of the best entertainment in the country but with nearly opposite city landscapes. Containing nearly 1/8th of the overall U.S. population, California is also a great option for active adults and retirees who want to stay close to family and friends.
California also has a reputation for being an expensive place to live, but the story for seniors is slightly better. The state does not tax social security and, even with some of the highest property values in the country (the top five most expensive housing markets are all in California), there are some very affordable areas. Active adult communities in Palm Desert have homes starting in the $200,000 range, while Oceanside and the Inland Empire area offer homes for even less.
Laguna Woods Village continues to be the most popular active adult community in California. This well-established community boasts over 12,000 homes that come in all kinds of varieties, sizes, and floor plans. Residents also have access to eight clubhouses, a library, sports courts, and pools.
New Jersey's inclusion might come as a surprise to some, but the Garden State has been a retirement destination for decades. New Jersey has over 200 active adult communities, more than any other state not mentioned. This is impressive for the fourth smallest state in the country. Yet New Jersey is also the most densely populated state in the US (excluding Washington D.C.). It's located within driving distance to New York City and Philadelphia, and has enough outdoor opportunities to attract active adult homebuyers from the region.
New Jersey has earned the nickname the Garden State for a reason. Despite its reputation as a suburb of New York City, this neighboring state has the Pinelands, containing 1.1 million acres of protected parkland and dotted with farms, wetlands, and forests, all accessible via hiking and biking trails. The Atlantic coastline has nearly 100 miles of beaches. Along the border with Pennsylvania, residents will find the Delaware Water Gap, giving ample opportunity for water enthusiasts to explore the meandering rivers.
Although retiring in the northeast is generally more expensive than the rest of the country, New Jersey offers active adults a lighter financial burden than the surrounding states. Most retirees are attracted to New Jersey because of its cost efficiency relative to the surrounding states, including a high exclusion for pension income, untaxed social security benefits, and a senior tax freeze program.
New Jersey also hosts some of the largest 55+ communities in the area. Holiday City at Berkeley has over 10,000 homes, six clubhouses, and several clubs and groups representing a wide range of interests. Residents never have a lack of options, since New Jersey has over 25 communities with over 1,000 homes.
For 26% of the respondents, other states sounded more appealing for retirement. What do you think of these retirement states? What state would you love to retire to? Share your thoughts below.