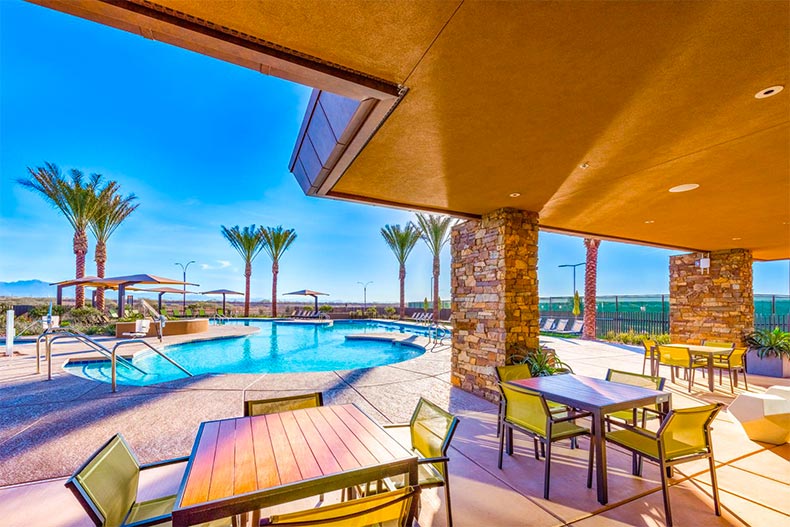 Presales have begun for the final phase in the popular 55+ active adult community of Encore at Eastmark. Located in the Phoenix suburb of Mesa, the community has been hugely popular, and presales have begun providing an opportunity to view and purchase the new available lots.
Work on this Taylor Morrison, 3,200-acre development of 973 single-family homes began in early 2015 and the new homes being made available range from 1,339 square feet to 3,205 square feet. Prices start in the upper $200s and go into the $500s.
Geography
Encore at Eastmark is in the East Valley area of the city of Mesa, It's the third-largest city in Arizona after Phoenix and Tucson with a population approaching 500,000. Mesa is 30 miles and about a 35-minute drive from Phoenix Sky Harbor International Airport, 35 miles and 45 minutes from Downtown Phoenix, and eight miles and 15 minutes from the Mesa Gateway Airport used by the low-cost airline Allegiant Air.
Heading away from the city, Encore at Eastmark is also a 20-mile and 30-minute drive from the foothills of the Superstition Mountains. These cover an area of 159,757 acres, the highest point being Superstition Mountain itself at 5,059 feet. This is a popular recreational area for residents of the Greater Phoenix Area, and offers hiking and biking trails, rock climbing, and a museum which tells the story of the local legend of the Lost Dutchman's Mine.
Local Attractions and History
The community is five miles and a 12-minute drive from the Gilbert Gateway Towne Center, a shopping mall which includes a Super Target, Walmart, other chain stores, smaller boutique stores, banks, and several cafes and restaurants.
Mesa is quite a green city and in addition to its golf courses there are 2,280 acres of parkland. The largest of these is Red Mountain Park, which is a 20-minute drive from Encore at Eastmark.
Part of the reason for the greenness of Mesa is that when the Hohokam Native Americans settled here in about 300 B.C., they developed a canal system to irrigate the desert land.
This extended to over 500 miles, with some of the canals still in use today. Some can be seen in the Canal of the Parks, one of two archaeological sites in Mesa and a 30-minute drive from Encore at Eastmark. The city also has several museums and the Hohokam Stadium baseball park, also a 30-minute drive away.
Climate
Arizona's mild climate is one of the things which attract people to 55+ active adult communities like Encore at Eastgate. Mesa gets just over 9 inches of rain in a year, and seldom sees snowfall, though there can be a few frosty nights from December through to February. Spring and fall are extremely pleasant, and ideal weather for outdoor activities, including golf.
Floor Plans
All homes are single-story and there are 13 floor plans available, starting at 1,339 square feet. This provides two bedrooms, two bathrooms, and a two-car garage. The largest model available is 3,205 square feet, which has two bedrooms, two-and-a-half bathrooms, and a three-car garage. Earlier builds included four bedrooms and three bathrooms.
Prices
Prices on the final-phase homes are now available for presale, and range from the upper $200s to the mid $500s. Some of the larger earlier builds are also still available for sale in similar price brackets.
Amenities
Amenities in Encore at Eastmark include a 15,000 square-foot clubhouse, a fitness center, a library, dance and crafts studios, an outdoor pool and spa, a billiards room, hiking and biking trails, and courts for tennis and pickleball.
Encore at Eastmark doesn't have its own golf course but there are several golf courses within a short drive. One of the closest is at Sunland Springs Village, which is just over six miles away and is Mesa's only 27-hole golf course. This private course offers three distinct 9-hole layouts, which can be rotated for a variety of plays.
A little over ten minutes away is the Augusta Ranch Golf Club, an 18-hole, par-61 public course. The 18-hole Toka Sticks Golf Club is a 15-minute drive away. It's a public course and was designed by the Army Corps of Engineers in the early 1950s and is owned by the Gila River Indian Community.
Lifestyle
With almost 1,000 homes there are plenty of activity groups and social clubs in Encore at Eastmark. These include clubs for many board and card games, a book club, groups for dancing, line dancing, drawing, sewing, photography, dog walking, and several outdoor activities including bicycling, hiking, and jogging.