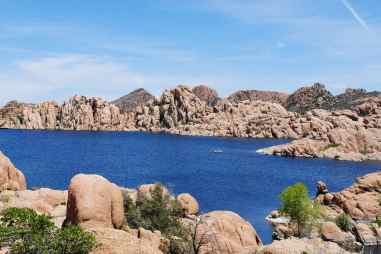 There are many reasons why Prescott, Arizona was named number four on Money Magazine's 2010 list for the 25 Best Places to Retire. Just a few reasons include the near-perfect climate, the area's rich history, the spectacular golf courses, and the town's varied cultural attractions. High home prices once put Prescott out of reach for many retirees, but the current market has made the area an even more attractive option with many desirable active adult communities.
Prescott Active Adult Communities
For many years, Prescott has been a popular destination for retirees. According to Money Magazine's 25 Best Places to Retire, Prescott has a population of 42,265, and 49 percent of the population is estimated to be over 50. Some active adult communities in the Prescott area include Prescott Lakes by SunCor Homes and The Gardens at Willow Creek by Malouff and Co. With seven active adult communities in the Prescott area, most active adults seeking a home in Arizona will find a community that best fits their active lifestyle.
Things To Do in Prescott
While Prescott's active adult communities offer their residents additional amenities, there is plenty to do throughout the area. Nature lovers will enjoy living adjacent to the Prescott National Forest, a 1.25 million-acre preserve that contains 650 miles of trails. Prescott also offers a selection of both private and public golf courses, including the Capital Canyon Club, the Antelope Hills Golf Courses, and the StoneRidge Golf Course.
Annual events and festivals are common in Prescott. Performing arts events include the Bluegrass Festival, the Prescott Film Festival, and the Acker Music Festival. Arts and crafts are celebrated at several events throughout the year, such as the Folk Arts Fair and the Navajo Rug Auction. Many holidays also bring special annual events like the Easter Egg-Stravaganza, the Cinco De Mayo celebration, and the Pumpkin Patch Carnival.
The distinctive town also displays a rich history, with over 800 buildings listed on the National Register of Historic Places. These historic structures include beautiful Victorian homes and 19th-century Whisky Row saloons. The area is also home to The World's Oldest Rodeo, which was founded in 1888. With so much cultural history, Prescott is sometimes called "The Cowboy Capital of the World."
Prescott Climate
Prescott is located 100 miles north of Phoenix, in the Bradshaw Mountains. With an elevation of 5,400 feet, Prescott enjoys a sunny climate, but still experiences all four seasons. Summers in Prescott are hot with average daytime temperatures in the high 80s, while the mild winters often have temperatures in the low to mid-50s. Light snowfall is common in the winter as well, but it melts quickly.
For retirees, Prescott has long been a favorite destination. The town has ideal weather, beautiful historic buildings, a rich history, many recreational activities and an array of cultural events. With so much local appeal, it's no wonder many active adults consider Prescott a perfect retirement town.