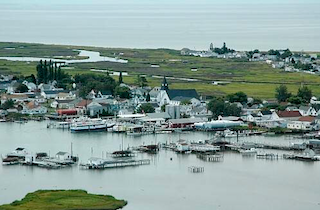 Located on a quiet stretch of the Atlantic Coast, Virginia's Eastern Shore is a lesser-known vacation spot ideal for a tranquil getaway or remote retirement. The region features unspoiled beaches, fresh seafood, interesting tourist attractions, and plenty of picturesque charm. Whether you're looking for your next vacation or your retirement destination, there's plenty for active adults to discover at the Eastern Shore.
Coastal Location
The Eastern Shore of Virginia is located on the Delmarva Peninsula, just one hour south of Ocean City, Maryland, and is separated from the rest of the state by the Chesapeake Bay. The region is accessible from Virginia Beach via the 23-mile long Chesapeake Bay Bridge-Tunnel. The Eastern Shore also includes popular destinations like Chincoteague Island and Tangier Island.
Small-Town Charm
Though Virginia's Eastern Shore is just 30 minutes from the bustle of Virginia Beach, its quiet setting feels like stepping into another world. Typical retail malls are replaced with unique small-town shops that often carry the work of local artists. Dining options range from casual cafes to elegant waterfront restaurants and menus typically feature fresh seafood and produce from the many local farms.
Things To Do
The Eastern Shore's quaint setting provides plenty of modern recreations. Local vineyards offer tastings and tours and entertainment venues feature community theater, concerts, art shows, and seasonal events. Day spas provide relaxing and rejuvenating services, while museums and historic tours provide culture and education. Science-lovers will also enjoy a trip to NASA's Wallops Flight Facility, which is one of the oldest launch sites in the world.
The Great Outdoors
Outdoor recreations are popular throughout the Eastern Shore. Beautiful bay and ocean beaches are found in popular areas like Chincoteague Island, Cape Charles, Kiptopeke State Park, and along the isolated barrier islands. Residents and visitors alike can enjoy water-based activities like swimming, fishing, kayaking, and boating. Other area recreations include hiking, biking, birding, horseback riding, and golf.
The Eastern Shore's natural beauty is preserved through many different parks and wildlife refuges. On Chincoteague Island, the Assateague Island National Seashore is famous for its pristine beaches and wild Chincoteague ponies. Wildlife is also easily observed at the Eastern Shore of Virginia National Wildlife Refuge in Kiptopeke and the Savage Neck Dunes Natural Area Preserve in Eastville.
A Unique Destination: Tangier Island
Set in the midst of the Chesapeake Bay, Tangier Island is one of the Eastern Shore's more memorable destinations. This tiny island is home to less than 1,000 residents who mainly make their living through fishing and tourism. The island is only accessible by boat and there are few cars present as they do not fit on the small roads. Tangier residents are also notable for their language as they speak a unique Old World dialect of North American English.