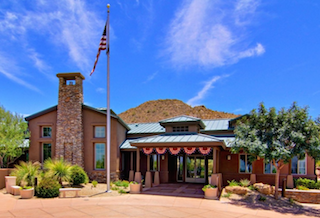 Just minutes from Phoenix-Mesa Gateway Airport, at the base of the San Tan Mountain Regional Park, the Town of Queen Creek offers desert beauty, local heritage and small-town charm. The area is known for its outdoor recreation opportunities and spectacular scenery, yet it also offers retail centers, restaurants, local theaters and other entertainment.
Location
Queen Creek is located in Central Arizona, in the southeast corner of Maricopa County, and is part of the Phoenix metropolitan area. The rapidly growing town is quieter than downtown Phoenix, offering country living that is within easy reach of more urban attractions.
Climate
On average, Queen Creek enjoys over 330 days of sunshine each year. Summers are hot with daytime temperatures climbing to over 100 degrees, while winters are mild with average daytime highs in the mid-60s.
Attractions
Visitors often come to Queen Creek for its self-pick fruit and vegetable farms, as well as its seasonal festivals. Scenic views of the San Tan Mountains and Superstition Mountains provide a beautiful backdrop, while a sunny climate makes Queen Creek an ideal place for outdoor recreational activities.
The nearby San Tan Mountain Regional Park spreads across 10,000 acres of the lower Sonoran Desert, with an elevation ranging from about 1,400 to over 2,500 feet. It's a perfect place to view local nature and wildlife, as well as take part in outdoor recreational activities like hiking, biking, camping, and horseback riding.
The park's Visitor Center offers more information, along with wildlife exhibits and souvenirs. Throughout the year, Queen Creek celebrates with a variety of seasonal festivals. Locals and visitors alike can share the fun during annual events such as Earth Day, the Roots and Boots Rodeo, Independence Day Weekend, Founders Day, and the Holiday Festival and Parade.
Other local attractions include the Queen Creek Olive Mill, the Queen Creek Performing Arts Center, Schnepf Farms, and the Horseshoe Park & Equestrian Centre. For history buffs, Queen Creek landmarks offers a glimpse into the past.
The town offers a historic tour map which includes many different destinations, including the San Tan Historical Society Museum, Queen Creek's First School, a World War II POW camp, Gold Mine Mountain, Higley General Store, and the historic Post Office Building.
Active Adult Communities
Active adults who want to settle in Queen Creek may find the home of their dreams in Solera at Johnson Ranch or Trilogy at Encanterra. Each of these communities are designed for residents aged 55 and better. They feature resort-style amenities and appealing single-family homes, as well as clubs, classes and activities created to support a healthy, active lifestyle.
Whether looking for a quiet vacation spot or a tranquil retirement destination, Queen Creek offers the best of country living along with easy proximity to the diverse attractions in Phoenix.