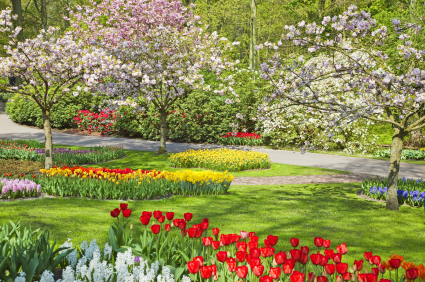 After the chill of winter, active adults are often itching to get out of the house and into the spring sunshine. Fortunately, there are many activities which highlight the joys of the season. You can take in a ball game, inspire your inner gardener or take a stroll through the distant past. Whether planning an urban, suburban or rural outing, you can always find something to do to celebrate spring.
Minor League and Professional Baseball
For many people, spring hasn't really begun until they've spent an afternoon at the ball park. Even those who aren't big baseball fans can enjoy the fun and excitement of a live game. If you don't live in a city with a Major League Baseball team, check to see if there are any minor league teams in the area. You may even decide to plan a special vacation to watch your favorite team in action.
Historic Walking Tours
Both small towns and big cities across the country often have their own historic districts. Delve into your own local history by setting out on a nearby walking tour. You can often find a pre-planned route available through your local historic society. If you really want a memorable spring, plan a trip to a well-known historic area like Charleston, South Carolina, or Washington, DC.
Botanical Gardens and Arboretums
The first flush of spring is an ideal time to explore local botanical gardens and arboretums. These beautiful locations often feature carefully cultivated plants and lush, towering trees. They frequently include specialty displays such as butterfly gardens, orchid collections or bonsai trees as well. Don't forget to bring your camera, and perhaps a journal, to capture your experiences.
Scenic Road Trips
You don't have to strap on your walking shoes to get a feel for your local culture. Spring is a lovely time to hop in the car and spend the day (or a few days) on a scenic road trip. If you're looking for some great vacation spots with scenic roadways consider California's Central Coast or the Great River Road, which runs along the Mississippi River. Be sure to try some of the local cuisine along the way.
Flower and Garden Shows
Spring is the perfect time to check out flower and garden shows. You can check your local listings for shows in your area, or plan a trip to see some of the well-known annual festivals found around the country. A few that are sure to impress include the Skagit Tulip Festival in Seattle, Washington; the Azalea Festival in Raleigh, North Carolina; and the Daffodil Festival on Nantucket Island, Massachusetts.
Do you have any fun excursions planned for this spring? Tell us about it in the comments section below.