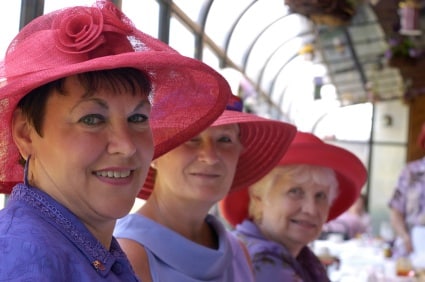 Have you ever come across a group of vivacious older women dressed in purple and sporting bright red hats? Have you gone out to lunch and noticed a table of older men laughing and swapping stories? If so, you may have spotted some Red Hats and Romeos. Active Adult Communities provide residents with a wide variety of recreational activities and social clubs. Two groups steadily gaining popularity among older adults are the Red Hat Society for women and, for men, the Romeo Club, a.k.a. Retired Old Men Eating Out.
Red Hat Society History
The first glimmers of the Red Hat Society were sparked several years ago when founder Sue Ellen Cooper impulsively bought a bright red hat at a thrift store and later came across the poem, "Warning" by Jenny Joseph. The first two lines of this empowering poem read: "When I am an old woman I shall wear purple With a red hat which doesn't go, and doesn't suit me." The poem goes on to describe all the things the author will do when she is old enough to feel free to break with society and do what she pleases.
Inspired by these words, Sue Ellen bought a vintage red hat for her friend, Linda Murphy, and gave it to her with the framed poem. The gift became a tradition for them each to give additional friends, and eventually the women decided to go out for tea wearing their red hats with purple dresses. The event was such a success that the women continued to arrange outings in their brightly colored ensembles.
55+ Communities with Red Hat Societies
Today, chapters of the Red Hat Society meet in states across the country. Chapters are popular at active adult communities, including those at The Colony in Murrieta, California; Province in Maricopa, Arizona; Frisco Lakes in Frisco, Texas; Sun City Carolina Lakes in Fort Mill, North Carolina; and Oak Run in Ocala, Florida.
Romeo Club History
Romeo Clubs strive to create an equally popular social group for men. The groups of men who identify themselves as Romeos, or Retired Old Men Eating Out, have a less definite origin story than the women of the Red Hat Society. Some stories credit John "Lefty" Caulfield of Cambridge, Massachusetts as coining the term Retired Old Men Eating Out. Other names, such as Vincent Roland Legge, have also emerged as the possible founder. Stories are also told of retired World War II veterans in northern Utah who had their own Romeo Club.
The history of the Romeo Club may be more nebulous, but the club is similar to the Red Hat Society in wanting to provide a social group where members can regularly meet to enjoy each other's company. Romeo Clubs often meet monthly, though some may choose to meet more often. The meetings are simply a place for men to share stories and good food with their fellow retirees.
55+ Communities with Romeo Clubs
Though Romeo Clubs are not yet as well established or organized as the Red Hat Society, they are gaining popularity among men and are showing up more often at active adult communities. A few of the communities that offer Romeo Clubs include Windsor Hills in The Woodlands, Texas; Continental Ranch Sunflower in Marana, Arizona; and Sonora at Rancho Sahuarita in Sahuarita, Arizona. For Red Hats and Romeos, 55+ active adult communities are the perfect setting to build a new chapter.
Members of each group can enjoy socializing, meeting new friends, and being supported and encouraged by others members. After all, active adult communities are designed with recreation in mind, and both Red Hats and Romeos can agree that the main goal of their meetings is to have a good time. Does your community offer a Red Hat or Romeo Club? Tell us about it in the comments section!