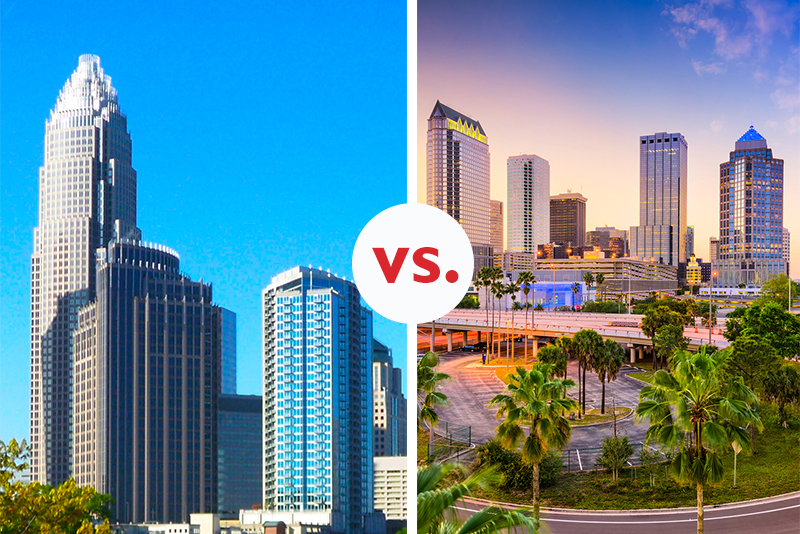 Florida is a prime retirement destination for many Baby Boomers. The state offers numerous active adult communities, sunny weather, beautiful beaches, and exciting cities like Ocala and Tampa. These cities are less than 100 miles apart and offer distinct 55+ communities, beautiful, natural surroundings, plenty of recreational activities, and several cultural attractions.
The Ocala and Tampa areas also have many similarities in weather as both cities share a subtropical climate with hot summers and mild winters. Retirees love the year-round sunny weather and comfortable nighttime temperatures. The city of Ocala is located in the heart of Central Florida while Tampa is situated on Florida's Central Gulf Coast that opens into the warm waters of the Gulf of Mexico. Both areas offer multiple opportunities for recreational activities.
Tampa Bay has a port of call, which makes it easy for retirees to access several cruise lines for a quick getaway. Ocala is about an hour from the shores of the Gulf of Mexico, but it is also close to the Ocala National Forest, which covers about 383,000 acres of lush pine, lakes, rivers, and regional wildlife that makes for a great outdoor adventure close to home.
The Ocala National Forest provides opportunities for hiking, fishing, camping, boating, biking, and other outdoor recreational activities.
Tampa also has great outdoor recreation with its beautiful beaches that are a major draw for active adults who want to relax in the water, sun, and sand. Some of the top beaches in the Tampa Bay area include Ben T. Davis Beach, Sand Key Park, St. Pete Beach, Clearwater Beach, and Treasure Island.
When it comes to entertainment and attractions, both cities have something great to offer. Just outside of Ocala, retirees will find that the Silver Springs Nature Theme Park is a perfect option for when the grandkids come to visit. This magnificent outdoor attraction is famous for its glass-bottomed boats that offer underwater views of turtles, fish, alligators, and other wildlife creatures. The park also has rides, a petting zoo, animal exhibits, and concerts.
Ocala also offers several regional museums and performance venues like The Appleton Museum of Art and the Ocala Civic Center. In Tampa, retirees have a rich lineup of diverse cultural attractions like the Tampa Museum of Art, the Henry B. Plant Museum, and the David A. Straz Jr. Center for the Performing Arts.
Golfers will find plenty of lush courses in each city to meet all of their golfing needs. Active adults can choose from public and private golf courses throughout Ocala and Tampa. Two popular courses in Ocala are the Ocala Municipal Golf Course and Pine Oaks Golf Course. World-class golf courses around Tampa include TPC Tampa Bay, Rocky Point Golf Course, Pebble Creek Golf Club, and Copperhead Course at Innisbrook Golf & Spa Resort.
While these cities have many similarities, there are a few unique factors that set them apart. Ocala's Marion County is known for its horses, which is why the city is known as the "Horse Capital of the World." At least 45 breeds are represented throughout the area and many thoroughbreds have been bred and raised in Marion County horse farms, which are a common sight throughout Ocala.
Tampa was known for its cigar-making industry in the early 20th century, but has since evolved to include finance, retail, healthcare, insurance, tourism, and real estate into its economic activity. Several Fortune 1000 companies are also headquartered in the Tampa metro area.
Fortunately, Tampa and Ocala are also great retirement locations for those seeking an active adult community. Ocala is home to On Top of the World, which is the largest 55+ community in the city. Another popular age-restricted community is Stone Creek by Del Webb, which offers resort-style living within an attractive setting.
Other beautiful Ocala 55-plus communities include:
New construction in Ocala will find options at:
Tampa's growing active adult developments include new communities like:
Retirees can also find resale options in established communities like: