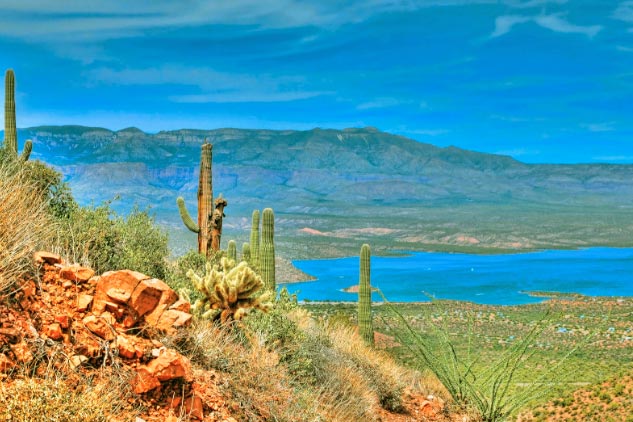 Arizona has been a top retirement destination for boomers for many years. According to Arizona Central. Arizona has grown by 27,576 retirees since 2015, making it the second-most popular state for baby boomers after Florida.
While retirees flock to Arizona for their golden years, some of Central Arizona's cities are especially popular among the 55+ crowd. Mesa in Central Arizona topped the list for U.S. cities with the newest residents over age 60 and Phoenix came in at number four, welcoming 1,470 new residents. Other Central Arizona cities like Peoria and Gilbert were also included on the list with more boomers calling these retirement hotspots home.
Communities
So why are retirees moving to Central Arizona? Besides the 300+ days of sunshine, this region offers boomers affordable housing, lower taxes, and a variety of active adult communities with resort-style amenities.
Sun City, one of the first active adult communities in the country, was opened in 1960 by Del E. Webb. This massive 55+ community attracted a large number of retirees to the Phoenix Area thanks to its affordable home designs, low property taxes, and world-class amenities and minimal homeowners' association fees. Sun City has one of the highest rates of golf holes per capita of any active adult community in the country.
With an influx of retirees moving into this region, more active adult communities like Sun City West, Sun City Grand, Sun City Festival, Sun Lakes, and PebbleCreek were built. Each community offers homeowners world-class amenities like lush golf courses, sparkling pools, well-appointed clubhouses, and plenty of outdoor recreational facilities.
Some of the newer 55+ communities like Victory at Verrado in Buckeye offer residents traditional resort-style amenities like pools and golf courses. It also provides unique amenities for retirees who love the outdoors like a vineyard, olive grove, chef's garden, outdoor lawn yoga, and miles of walking and biking trails.
Recreation
The region's outdoor environment and warm, subtropical desert climate are other reasons why so many active adults flock to Central Arizona. It is home to thousands of acres of untouched desert landscape, such as the Sonoran Desert and the Tonto National Forest, which are perfect for retirees who enjoy scenic hikes or walks to view nature and wildlife. The area hosts bountiful cholla cactuses, saguaro, and coyotes. Buckeye Hills Recreation Area is also a well-known destination in Buckeye that has a lake for water sports and recreation.
Phoenix, Mesa, and other surrounding cities are home to some of the best golf courses in the world, including Alta Mesa Golf Club, Las Sendas Golf Club, Eagle's Nest at PebbleCreek, Gold Canyon Resort – Dinosaur Mountain Golf Course, and Wildfire Golf Club.
Local Attractions
Central Arizona is also home to the Phoenix Area, which has more than 3.4 million residents. This metropolitan area features a wide selection of museums, cultural attractions, dining, nightlife, and historical landmarks.
In the city of Gilbert, boomers can check out the rich history of the area that has been included in the National Register of Historic Places. Some of the notable spots include the pump house at the base of the iconic Water Tower, The Women's Club, Morrison Ranch Silos, and the Gilbert Historical Museum.
The Mesa Art Center in Mesa was built in 2005 and hosts live theater, concerts, art exhibits, and art classes. Big-city attractions in Phoenix include a variety of museums, art galleries, and exhibits as well as fun attractions like the Desert Botanical Garden, South Mountain Park and Preserve, and Heritage Square Dining.
It's easy to see why Central Arizona is a favorite retirement location for boomers. The region combines the best of both worlds for retirees who love big-city entertainment and scenic, natural areas, all in one central and beautiful location.