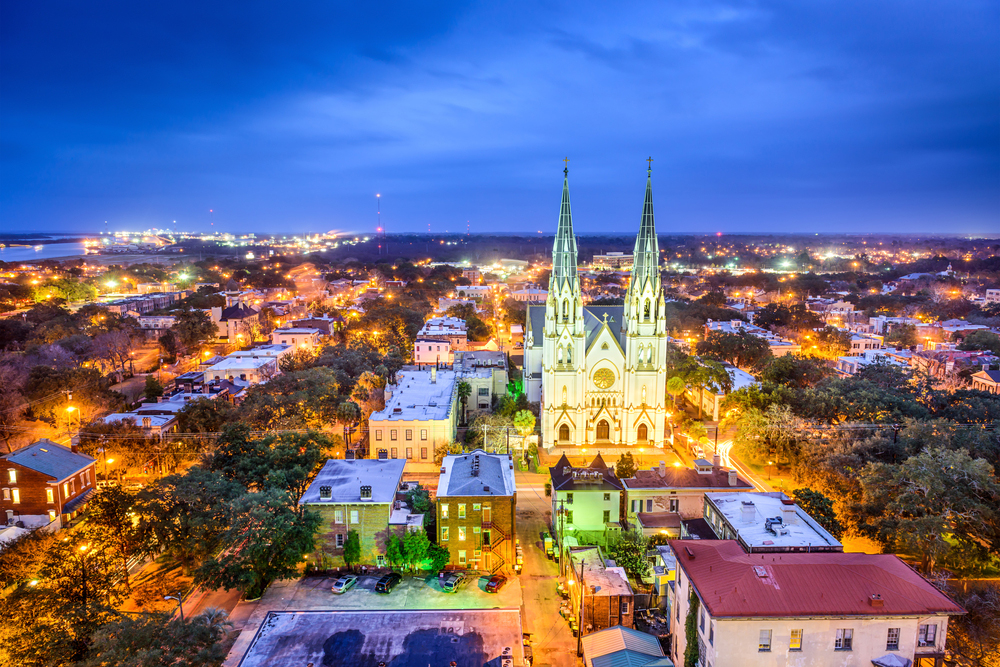 The coastal region of Georgia has attracted retirees for many years thanks to its 100 miles of beautiful shoreline bordering the Atlantic Ocean. Some active adults retire in Coastal Georgia because it offers a wide selection of beaches, water recreation, activities, breathtaking views, and warm weather. The region is also known for its historic towns, picturesque islands, and quaint seaports.
In addition to all of the entertainment and attractions as well as rich history and culture, Coastal Georgia also has several 55+ communities that offer attractive amenities and activities for retirees who are looking for a vibrant, low-maintenance lifestyle. From the historic city of Savannah to the north and the impressive natural setting of the Cumberland Island to the south, Georgia's scenic coast has something great to offer active adults.
Climate
Coastal Georgia is an attractive retirement destination thanks to its humid, subtropical climate. Retirees can expect to experience hot summers with average temperatures ranging from high 70s to the 90s while winter months are typically mild and short with rare snowfall. Although the region doesn't get much snow, it does get plenty of rainfall along the coast.
Savannah
The coastal region of Georgia stretches about 100 miles from the north end all the way to the south end. Savannah is one of the popular cities in this region and is known for its historic, Old World charm combined with modern attractions. Savannah is Georgia's first town and was established in 1733, which still features some of that historic architecture seen in the homes and buildings that have been preserved throughout the city.
Savannah also offers plenty of entertainment and attractions such as riverboat cruises, old town trolley tours, state parks, golf courses, and art museums. This vibrant city is also home to active adult communities like The Landings on Skidaway Island and Coffee Pointe.
Each community offers a variety of home designs at different price points as well as a rich lineup of amenities that allow retirees to enjoy an active and social lifestyle within a beautiful and tranquil setting.
Island Retreats
There are also several popular islands that are nestled along the Georgia coastline. Some of the island retreats include Tybee Island, St. Catherines Island, St. Simons Island, Jekyll Island, The Golden Isles, and Cumberland Island. These islands offer retirees plenty of beaches, palm trees, world-class resorts, and attractions that are also popular among tourists.
Brunswick is the main city nestled within the Golden Isles that offers retirees historic charm thanks to its Victorian-style homes and lively waterfront. As the mainland city, residents will also have access to four barrier islands nearby such as St. Simons Island, Sea Island, Jekyll Island, and Little St. Simons Island.
Active adults will be pleased to find Peppertree Crossing in Brunswick as well. This intimate 117-home 55+ community has great amenities, a vibrant social scene, and reasonably priced homes in an attractive environment that's not far from sandy beaches and countless recreation.
Wetlands
Besides sandy beaches and ocean views, retirees can also check out the region's scenic wetlands and wildlife areas at the southern end of the Georgia coast, which include St. Mary's and the Cumberland Islands. These areas feature plenty of shops, restaurants, and local museums. Cumberland Island also has 17 miles of secluded beaches, forests, and wildlife that are perfect for outdoor enthusiasts. Another treasured spot is the Okefenokee Swamp, which is a shallow 438,000-acre wetland and is known as the largest blackwater swamp in North America.
The swamp offers a mix of wetlands, wildlife, and abundant outdoor space and is made up of four parks where visitors can explore all that this natural environment has to offer. Another city located in Coastal Georgia is Pooler in Chatham County, which is home to communities like Westbrook Villas at Savannah Quarters and The Fairways at Savannah Quarters. These charming active lifestyle communities have less than 100 low-maintenance homes, which allow residents to enjoy a close-knit setting.
Retirees who are seeking diverse attractions and beautiful outdoor areas that are also close to charming towns with modern amenities should consider Coastal Georgia for their retirement location.