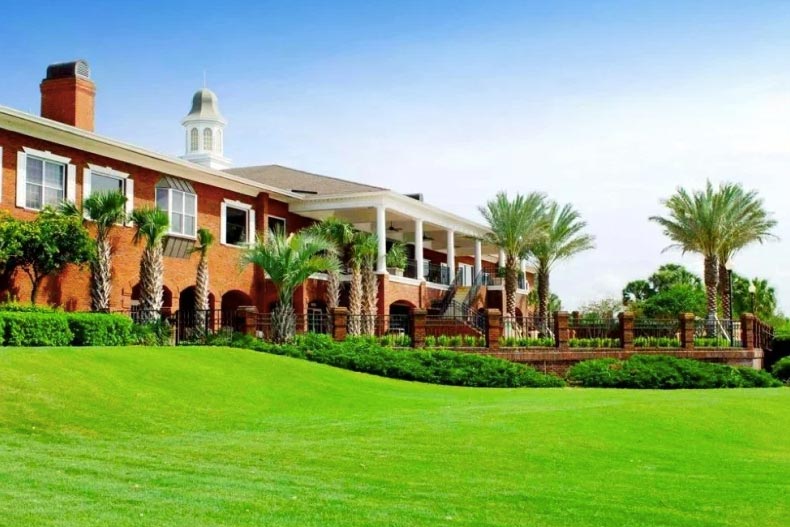 While Summerfield is far from Florida's coasts, there are still ample beach options amidst the region's many lakes. The closest and largest being Lake Weir, which is surrounded by the popular Eaton's Beach. The lake is great for recreation, fishing, relaxing on a pontoon, or grabbing a bite at Eaton's Beach Sandbar and Grill.
Besides water, outdoor lovers feel right at home being near green space like Ocala National Forest, Ocklawaha Prairie, and Ross Prairie State Forest. Summerfield is convenient for weekend and day trips due to its location. Cities like Tampa, Orlando, and Jacksonville are a few hours' drive away.
Many retirees are familiar with The Villages, the largest age-restricted community in the country. For decades, active adults have flocked to Central Florida to retire in The Villages. The community is always growing and currently includes over 56,000 homes of all styles. To provide for such a large population of active adults, The Villages includes three town squares, 42 recreation centers, 42 golf courses, over 60 restaurants, and over 50 outdoor pools.
Despite being such an expansive community, neighbors are able to connect in with each other in the over 3,000 social clubs and groups. The Villages—even though it's the most well-known 55+ community—is not the only community in the Summerfield Area. There are several other expansive, highly rated communities for active adults.
The area is home to five other 55+communities, all of them with over 700 homes. Age-restricted communities in the Summerfield Area are notable for being affordable and featuring golf courses. Golf lovers who thought having 18 holes at their doorstep was out of reach in retirement will have just that in Summerfield.
Spruce Creek Country Club is the largest community in the area with 3,250 single-family, low-maintenance homes. Homeowners in Spruce Creek Country Club have access to a clubhouse, two separate recreation areas, and Eagle Ridge Golf Club. Between those four there's a state-of-the-art fitness center, two pools, several tennis and pickleball courts, and four golf courses.
Those who want to avoid the crowds in The Villages but still enjoy world-class amenities will feel right at home in Spruce Creek.
Another golf course community in Summerfield is Stonecrest, another less crowded community but with amenities comparable to The Villages. The low-maintenance community includes two clubhouses, a community center, and two golf courses. Stonecrest makes it easy for residents to stay active in the sunny climates with courts for bocce, pickleball, tennis, shuffleboard, and a softball field.
Just across the street from Stonecrest is Spruce Creek South, which includes 1,650 single-family homes built between 1989 and 1995. The community is home to a 25,000 square-foot clubhouse with fitness center, game rooms, a catering kitchen, ballroom, and restaurants. Outdoors, homeowners enjoy a pool and spa, tennis courts, bocce ball courts, sand volleyball, and an 18-hole golf course.
Harbor Hills Country Club in Lady Lake began construction in 1989 and is still building new homes. Amenities include a 35,000 square-foot clubhouse, restaurant, fitness centers, racquetball court, and billiards. Outdoors, the community is home to a junior Olympic pool, ten tennis courts, pro shop, and an 18-hole championship golf course. Harbor Hills Country Club is notable for its scenic golf course views, especially from the outdoor patio at The Signature Grill.
The other community in the Summerfield area is the 700-home Lakeside Landings community in Oxford. Lakeside Landings has a more quaint atmosphere than its neighboring 55+ community. It also provides a wider variety of home styles, including attached, condominiums, and single-family homes. The community features a 13,000 square-foot clubhouse with exercise room, ballroom, library, and billiards. Homeowners can relax at the resort-style pool, outdoor patio, and cabana bar. The community is also home to a putting green, walking trails, lakeside pavilion, beach, and fishing pier.