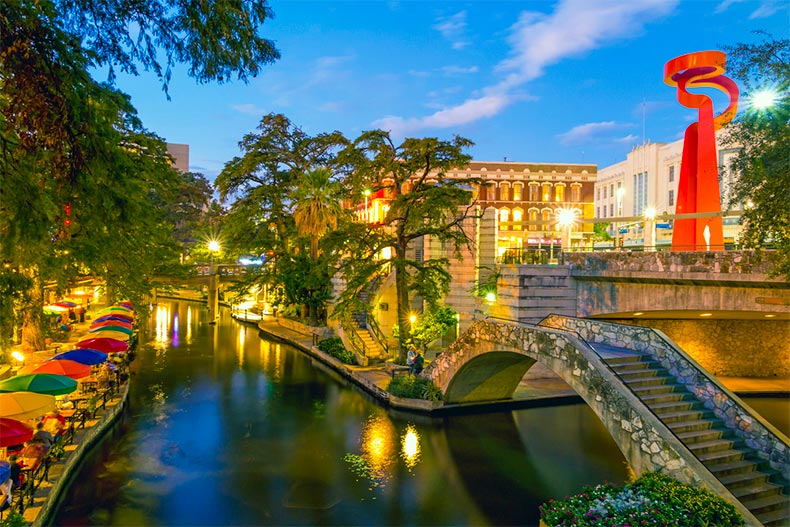 Many active adults are choosing to retire in San Antonio, TX, finding the city's exciting culture, pleasant weather, and rich history incredibly appealing. The second-most-populous city in Texas, San Antonio also boasts some of the country's most affordable housing. It's no wonder this vibrant city made the top five in our list of The 20 Best Places to Retire in 2018.
Nearly 25 million visitors travel to San Antonio each year for leisure, according to the San Antonio Visitors and Conventions Bureau. From the iconic River Walk to the history-rich Alamo, San Antonio sparkles with recreation opportunities for every interest. Active adults who reside in San Antonio can savor the city's culture every day through eclectic music, food, and cultural events.
Explore History
Active adults can step back in time and explore Texas history at the Alamo and the San Antonio Missions National Historic Park, which includes the four southernmost Spanish colonial missions. Art aficionados and museum lovers can enjoy outdoor sculptures and artwork, art galleries, and more than 25 museums. San Antonio also boasts more than 40 performing arts stages and a variety of cultural arts festivals throughout the year, making it one of the country's top 25 cities for art.
A Day (or Night) Out
When the sun goes down, San Antonians can step out for a night on the town, whether they prefer to two-step at a dance hall or sip some wine at a jazz club. If active adults want to get friends together and head to a professional sporting event, San Antonio is home to the five-time NBA champion San Antonio Spurs. The city also boasts professional teams in soccer, baseball, ice hockey, and arena football in addition to a rugby team and a drum and bugle corps.
Retirees who like to spend time outdoors can enjoy the city's many open spaces, even in the heart of downtown San Antonio. The city offers more than 14,000 acres of parks and 114 miles of mostly urban hike-and-bike trails. Active adults can also get some exercise and fresh air by paddling and kayaking down the San Antonio River.
55+ Communities
The San Antonio area boasts eight age-restricted communities, each with its own distinctive style. Scenic Hills in nearby Schertz gives residents a serene taste of Central Texas with several miles of trails and fishing areas spread over 190 acres. Here, active adults can choose from homes ranging from 1,294 to 2,270 square feet.
Just 30 minutes from Downtown San Antonio, homebuyers with discerning tastes will relish life in Campanas at Cibolo Canyons. This lush, gated community features spectacular Spanish-inspired architecture and a variety of resort-style amenities. Upon completion, this age-restricted community will contain 350 homes. Active adult homebuyers can choose from resale and new construction homes, which range from 2,300 to more than 3,300 square feet.
With a convenient location in central Texas and an abundance of 55+ communities at varying price points, San Antonio stands out as a gem for active adults seeking an ideal place to retire.