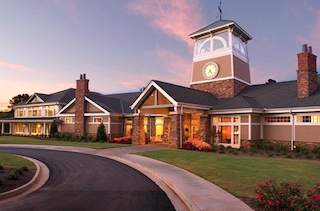 While Georgia was once just a resting place for retirees on the road to Florida, the state has more recently developed its own retirement hot spots. With its rich history, Southern charm and modern-day urban attractions, Atlanta has become a great place for a memorable vacation or a healthy, active retirement.
Location
The City of Atlanta is located in Northern Georgia, among the foothills of the Appalachian Mountains. It is the capital of Georgia and the state's most populous city. Atlanta was established in 1837, was burned to the ground during the Civil War and was rebuilt to eventually become one of the country's more prominent cities.
Atlanta's early growth hinged largely on its location at the intersection of two railroads, and the city continues to be a vital transportation hub. Today's travelers pass through Atlanta via railway and highway, and also through the Hartsfield-Jackson Atlanta International Airport, one of the busiest airports in the world.
Climate
The Atlanta climate is generally hot and humid, particularly during the summer months. Summer daytime temperatures can easily climb over 100 degrees, although average temperatures are estimated in the high 80s or low 90s. Winters are relatively mild, but have cold days which are often in the mid-40s and nights that can fall below freezing. Atlanta can also see some snowfall, but it is usually slight and short-lived.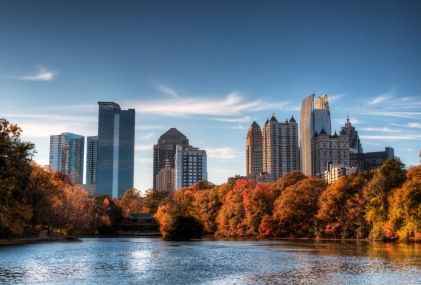 The city of Atlanta is packed with excitement, recreations and historic attractions.
Attractions
Atlanta's rich history offers exciting attractions for history buffs. Whether exploring the Civil War or Civil Rights, visitors can enjoy popular tourist sites such as the Atlanta Cyclorama & Civil War Museum, the Atlanta History Center, or the Martin Luther King, Jr. National Historic Site.
Visitors can also arrange walking tours of the city, explore the Carter Center and Presidential Library, or stop by the Margaret Mitchell House and Museum. Although Atlanta has an interesting past, it offers many more modern attractions as well.
First-time visitors won't want to miss a trip to the 10 million gallon Georgia Aquarium or a tour of the World of Coca-Cola. Other popular attractions for both visitors and locals include the Six Flags Over Georgia amusement park, LEGOLand Discovery Center, the Atlanta Botanical Garden, and Zoo Atlanta in Grant Park.
Active adults who choose to settle in the Atlanta area can choose from a wide variety of age-restricted and age-targeted communities. Most of these developments are located outside of the city, combining a suburban setting with close proximity to exciting urban attractions.
Active Adult Communities
There are large developments like Sun City Peachtree and Village at Deaton Creek, as well as more intimate communities like The Orchards of East Cherokee or Brookhaven of East Cobb. Whether planning a vacation or scouting a retirement destination, a trip to the Atlanta area offers great food, prime shopping, and exciting attractions which appeal to nearly any interest.