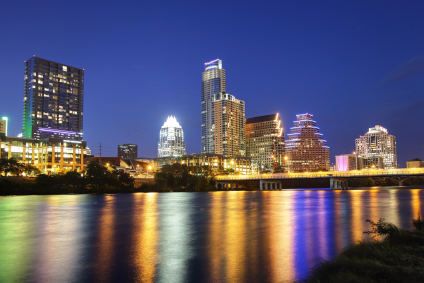 As the capital of Texas, Austin has grown to become a fabulous city with an exciting nightlife, numerous live music venues, diverse shopping districts, and eclectic architecture which combines both modern and historic buildings. In recent years, Austin has developed into a prominent center for technology and business, though the city still retains its unique personality through many local shops and small businesses.
Location, Location
Austin is located in the heart of Central Texas. The city is about 90 minutes northeast of San Antonio, three hours west of Houston and three-and-a-half hours south of Dallas. Outside of the city, Austin's suburbs have grown into many popular places to live, play, and work. Some of the most popular suburbs include Barton Creek, Cedar Park, Round Rock, and West Lake Hills.
Temperature Check
With a humid, sub-tropical climate, the Austin area is known for its hot summers and mild winters. During the summer months daytime temperatures are typically in the mid-90s, though they frequently climb to over 100 degrees. The winter season is generally mild, with daytime temperatures in the low-60s, though nighttime can fall to the low 40s.
An Entertainment Hub
The city of Austin offers many cultural and recreational activities. Known as the Live Music Capital of the World, Austin currently boasts 200 live music venues. Residents and visitors alike can take part in annual music festivals, enjoy outdoor concerts or listen to new bands in intimate clubs. Those who prefer live theater will have no trouble finding a variety of fabulous performances. The city is also known for its annual Austin Film Festival and South by Southwest Festival.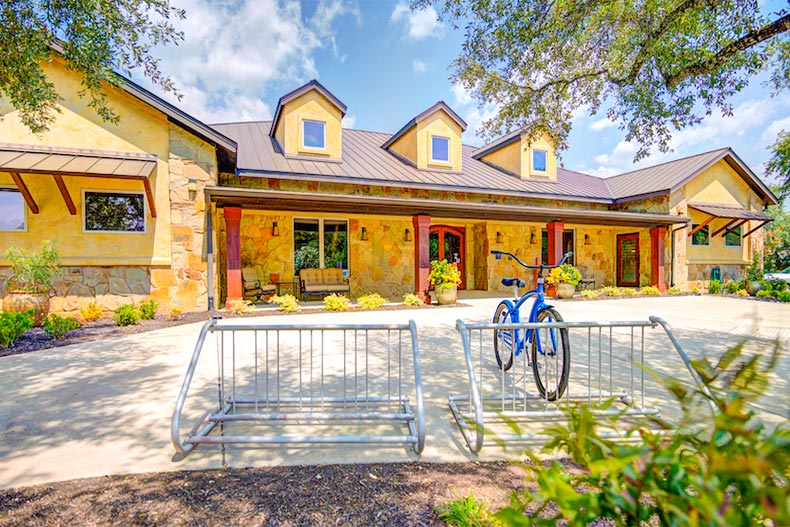 Heritage Oaks is an exclusive active adult community about 30 minutes from downtown Austin.
Fun in the Sun
Austin's outdoor recreations include many public parks and over 50 public swimming pools. Deep Eddy Pool is Texas' oldest man-made swimming pool and Barton Springs Pool is the largest urban natural swimming pool in the country.
The Austin area is also a haven for golf enthusiasts with dozens of fabulous courses, such as the Forest Creek Golf Club, the Morris Williams Golf Course, and the Flying L. Guest Ranch.
Active adults who want to settle in the Austin area can find several age-restricted communities within easy driving distance of the city. Just 35 minutes from Austin, Sun City Texas is a sprawling Del Webb community which features three 18-hole golf courses, room for 7,500 homes, and a clubhouse with a wide range of amenities.
Those who prefer a more intimate community may opt for nearby Heritage Oaks, which has 398 homes and its own amenity-rich clubhouse. Just a bit farther from Austin, active adults can also find fabulous homes in San Antonio's Hill Country Retreat.
With its distinct personality, hot climate, and exciting lifestyle, it's easy to see why many active adults are drawn to the beautiful city of Austin, Texas.