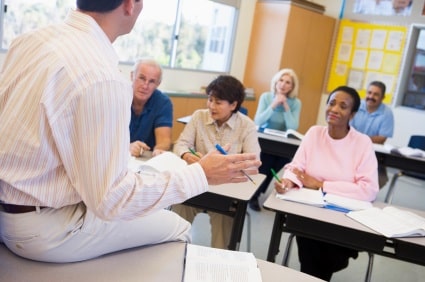 Retirement is a great time to continue your education. Whether you want to earn a degree, delve into a favorite interest or expand your general knowledge, there are many different ways to meet your goals. You can enroll in college courses, attend lectures and seminars, or even take an educational vacation.
If you are interested in earning a degree, your continued education classes will be more specialized. Community colleges and local universities have many older students pursuing their undergraduate or graduate degrees. Some programs offer credit for demonstrated expertise or reduced tuition for older students. Yet it is important that you verify which credits will be required for your degree. Instead of following the standard application procedure, make an appointment with the admissions office to find out more.
You may not need to live near a university or tackle a long commute to earn a college degree. Many schools offer online courses which let you tailor your continued education around your own schedule. You can take classes in the comfort of your own home and interact with your professors and fellow students online. This can be a very flexible option, as long as you have a dedicated Internet connection.
Some active adult communities also have on-site learning centers which are partnered with local colleges, or computer labs where you can access your online classes if you don't have a reliable computer at home. If you are more interested in simply learning than earning an actual degree, there are many free or inexpensive opportunities available. Many colleges let active adults audit classes, which lets you participate and learn with the class, but not earn college credit. You can also find many educational classes outside of a college setting. Your local libraries or museums often host seminars and lecture series on a wide range of topics.
Starting a special-interest social group may also give you an opportunity to arrange your own private group lectures or classes with local experts. For active adults who love to travel, the Road Scholar program has been offering educational tours around the world since 1975. You can travel throughout the United States, take a study cruise or visit exciting destinations in 150 countries. Each trip combines recreation and education for a truly rewarding experience.
The program is even more attractive if you live in a Del Webb community, as Del Webb and Road Scholar now have a partnership which lets residents take advantage of some fabulous deals. Whatever your budget or education goals, there are many opportunities for continued learning during your retirement years.