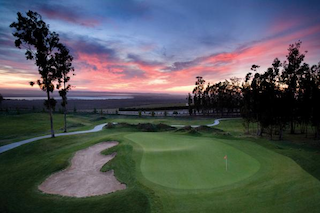 Stretching north from Los Angeles to just south of San Francisco, California's Central Coast offers spectacular ocean views, white sand beaches, and a wide range of recreational activities. The area attracts tourists, artists, and celebrity residents, and it is also a popular destination for active adult retirees. Whether heading to the Golden State for a vacation or to find a retirement destination, many qualities of California's Central Coast appeal to active adults.
The California Central Coast is divided into four distinct regions: Monterey Bay, San Luis Obispo, Santa Barbara, and the Channel Islands. Each of these regions offer their own special attractions, while together they provide the setting visitors expect from a California getaway, including everything from rocky shorelines and sunny beaches to rolling hills and majestic mountain vistas.
Monterey Bay
At the north of the Central Coast, along the southern edge of San Francisco, the Monterey Bay region features popular destinations like Carmel, Monterey, and Salinas. Surfers and water lovers can enjoy hot spots like Big Sur and Santa Cruz, while hikers will love to explore shady redwood forests. Carmel is known for its art galleries while Downtown Salinas offers a main street with historic charm. Some of the most popular attractions in the region include the Monterey Bay Aquarium and Cannery Row.
San Luis Obispo
The San Luis Obispo region, halfway between Los Angeles and San Francisco, offers several areas which appeal to relocating active adult retirees. Quiet parks and beaches offer breathtaking scenery for hiking, biking, and other outdoor recreations. Historic charm is found in the quaint downtown districts of Arroyo Grande and Atascadero, and visitors can tour the legendary Hearst Castle in San Simeon. Scenic active adult golf communities like Blacklake and Trilogy at Monarch Dunes are located amid the rolling hills of Nipomo.
Santa Barbara
Moving south, the Santa Barbara region has been nicknamed the American Riviera. This distinctive area features spectacular beaches, world-class shops and restaurants, and acclaimed Spanish architecture, which can be viewed while walking along the Red Tile Walking Tour. The Santa Barbara Museum of Art is a central feature of the region's thriving art community and wine lovers can tour the vineyards in the Santa Maria Valley Wine Country or the Santa Ynez Valley. The region is also home to Solvang, the Danish capital of America.
The Channel Islands
While the Central Coast's Channel Islands region is named for its island chain, the area also includes the beaches of Oxnard and Ventura, as well as historic towns in the Heritage Valley. Visitors and residents alike can enjoy water-based recreation, hiking, biking, or simply soaking up sun on a sandy beach. Shopping centers range from urban stores to charming small-town boutiques, and the region's casual atmosphere makes every day feel like a vacation.