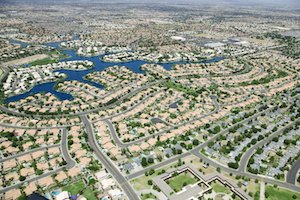 You may have seen the term "master-planned community" when searching for a new 55+ home but didn't know what it meant. A master-planned community is a type of residential development that includes a mix of homes constructed by various builders and includes recreational amenities on a larger scale.
Master-planned communities typically include everything that a homeowner would want or need within a large neighborhood infrastructure. These communities are usually gated and built around amenities like clubhouses, tennis facilities, or golf courses so residents have a place to live and play. Developers carefully conceptualize, plan, and design a community of this size to ensure everything is essential for the homeowner on a long-term basis.
Subdivisions
55+ subdivisions can be found within a master-planned community. For example, Del Webb Orlando is a 830-home neighborhood located within the master-planned community of Ridgewood Lakes. Additionally, a large 55+ community can be a master-planned community like the 5,900-home Solivta.
Appeal of Master-Planned Community
So what's the appeal of a master-planned community? Well, these aren't like your typical neighborhoods that lack an element of design. Most neighborhoods are not designed around the surrounding area to include parks, playgrounds, stores, entertainment, walking trails, or schools. Sometimes these basic necessities are far from home, which can be an inconvenience to homeowners.
Home Features
Not only are great amenities, security, and recreational facilities built into master-planned communities, but they are also designed to include beautiful landscaping with common areas cared for by professional landscapers. These added benefits make living in a master-planned community fun and vibrant as well as enhance the social lifestyle of the residents who live there.
Also, most homes are built by top-notch developers who offer innovative and energy-efficient designs. These master-planned communities feature a selection of premier builders who offer unique floor plans. While homes are offered in a variety of price ranges, homebuyers will most likely find competitive prices for those homes on the market.
Lifestyle
Maybe one of the biggest appeals of master-planned neighborhoods is the sense of community. Also, 55+ homeowners enjoy all of the amenities and conveniences nearby. Retirees can spend their days socializing at the clubhouse, playing tennis or golf, or swimming in the pool. They have a great selection of clubs, classes, events, and activities to join like book clubs, golf leagues, card games, holiday parties, or themed dinner parties.
Active adults will never be without an activity or daily necessity while living in a master-planned community.
Where would you like to see a master-planned community developed?