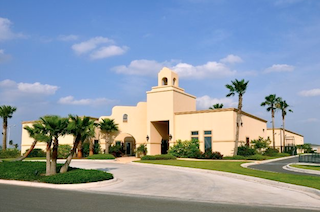 Located in the Southernmost tip of Texas, along the Mexican border, Rio Grande Valley is a popular vacation spot with a variety of attractions, such as South Padre Island. The area is a common stopping place for tourists on their way to Mexico and for tourists visiting from Mexico. Resort-style communities and a warm climate also make it a great destination for many active adult retirees.
Location
The Rio Grande Valley region encompasses four Texas counties: Cameron County, Hidalgo County, Starr County and Willacy County. It's located about two-and-a-half hours south of Corpus Christi and four hours south of San Antonio. Major cities within Rio Grande Valley include Brownsville and McAllen.
Climate
With its Southern Texas location, Rio Grande Valley generally has a hot, dry climate. Average summer temperatures typically reach the high 90s and daytime highs can often climb over 100 degrees. Winter months are warm and mild, with days in the low 70s and nighttime lows only dropping to the low 50s. However, areas closer to the Gulf of Mexico, such as Brownsville, are usually a bit cooler than inland cities.
Attractions
History buffs will find many interesting attractions throughout Rio Grande Valley. Brownsville Battlefields include the site of the last Civil War battle (fought weeks after the Confederacy had surrendered) and battlegrounds from the Mexican-American War. Tourists can also learn more about the area by visiting the Historic Brownsville Museum or the local wing of the Confederate Air Force.
Rio Grande Valley also features many areas for outdoor recreation, such as the Bentson-Rio Grande Valley State Park, the Laguna Atascosa National Wildlife Refuge and the Santa Ana National Wildlife Refuge. For golfers, a wide range of both public and private courses provide challenging play. Just a few to try include: Brownsville Golf and Recreation Center, Fairwinds Golf Club and Harlingen Country Club.
South Padre Island is arguably one of the most popular destinations in the region. This resort area features many water sports, such as boating, parasailing, jet skiing and fishing. Attractions like Isla Blanca County Park and Andy Bowie County Park offer beachfront pavilions, picnic areas, shops, restaurants and a marina.
Communities
Active adults who decide to retire to Rio Grande Valley may find their dream homes in one of the area's affordable age-restricted communities. At Alamo Country Club, resident golfers can enjoy the 9-hole golf course and practice facilities, while the clubhouse offers activities to cover many different interests.
Nature lovers may prefer a home at Retama Village, which is within close proximity of natural wildlife areas. Residents also enjoy an array of on-site amenities, as well as recreations offered through the larger Bentsen Palm master community.
Whether planning a vacation or looking for a retirement destination, the Rio Grande Valley region has a lot of appeal for active adults.