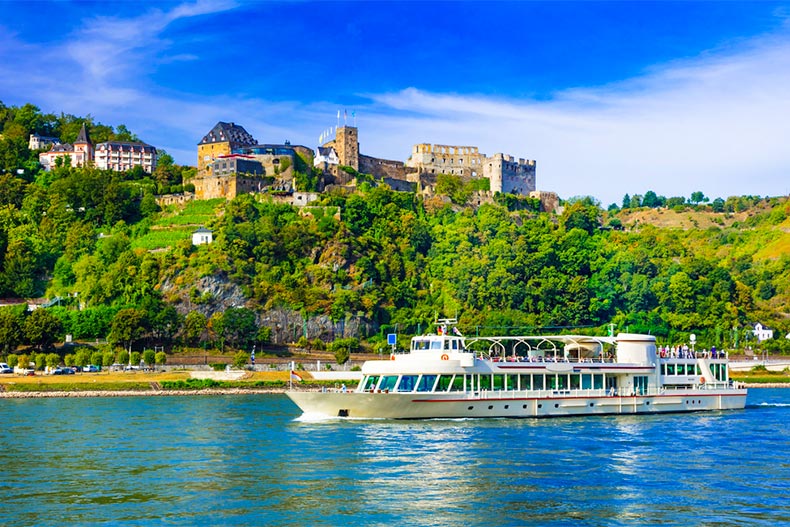 Active adults are taking to the water—but in a refreshing new way. River cruises are becoming increasingly popular among retirees who desire to explore new destinations, relax in the lap of luxury, and take a vacation like none other.
Especially popular in Europe, river cruising consists of three main activities: dining, cruising, and touring. It provides a relaxing, immersive, and all-around pleasant form of travel that allows vacationers to enjoy ever-changing scenery, whether they're gliding along the waters of the Rhine or stateside along the storied Mississippi River.
In the past decade, river cruising has emerged as a notable travel trend, with baby boomers comprising the largest group of river cruise travelers, according to Stride Travel. Here's a look at some of the reasons river cruises are attracting active adults.
An Intimate Atmosphere
River cruise ships typically accommodate fewer than 200 people, allowing active adults to enjoy the company of friends and family in a much more intimate environment than a 3,000-person mega-ship. On a riverboat, passengers don't have to wait in long lines when getting on or off the ship at different ports, and they can comfortably move about the vessel without moving through throngs of people. Active adults also appreciate a higher level of personalization on a river cruise ship. With fewer passengers to tend to, cruise staff and butlers can better serve each individual.
A Chance to Go Off the Grid
A river cruise opens up new destinations to active adults. Since riverboats dock in town, passengers can explore the town as they wish. They can spend the day enjoying cultural, culinary, or history-focused tours and activities, or they can branch off on their own. Unlike an ocean cruise, where most time is spent on the ship, river cruising gives active adults a chance to see multiple destinations and interact with local cultures. Passengers can relax, take in the sights, and spend time learning more about the places they're visiting. River cruising provides an exciting way to journey through the heart of various regions and see many historic towns and cities built along the river.
A Deeply Personal Experience
When active adults set sail on a river cruise, they're often sailing with like-minded individuals who share many of the same passions. Whether individuals have a love for art, history, music, or food and wine, they can choose a themed river cruise for a personalized journey. Many active adults find themed river cruising appealing because they don't need to create an itinerary based on what they want to do—it's all built into the experience. On a wine-themed river cruise, for example, passengers might get to travel with an established sommelier, while on an art-themed cruise, passengers might get to mingle with an art historian.
Small ships can mean big adventure and lasting memories. Active adults interested in river cruising can gather up some friends at their 55+ community and set sail. No matter which rivers or intracoastal waterways they choose to explore, it's sure to be an unforgettable experience.