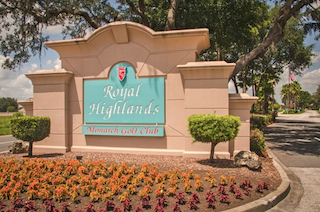 The Reaktenwalts
When Rick and Reka Reaktenwalt moved to Leesburg, Florida, they found their ideal retirement destination at Royal Highlands. This sunny golf community features plenty of amenities to support an active adult lifestyle, as well as friendly neighbors and beautiful single-family homes.
The Reaktenwalts moved to Royal Highlands in April of 2013, as part of a plan to make the most of their retirement years. "We wanted to move away from snow and cold weather, and be able to enjoy outdoor activities year round," they said of their relocation from O'Fallon, Missouri. "It also brought us closer to one of our four children, who lives in St. Petersburg", and they certainly aren't alone in longing for a comfortable retirement in sunny Florida.
Like most of the Sunshine State's age-restricted communities, Royal Highlands is home to many retirees who have relocated from colder climates. In addition to the varied groups for special interests like golf, fishing, crafts or dance, the community's line-up of social clubs also includes several groups for residents from common home areas such as Ohio, Pennsylvania, Michigan, Illinois, or the Midwest.
This mix of relocated retirees often helps new residents transition into their new home. As the Reaktenwalts tell us, "We were welcomed whole-heartedly, before we even made our move. All have made us feel that we are not just residents, but part of a family". For the Reaktenwalts, the friendly new neighbors were only part of Royal Highlands' appeal. They were also drawn to the community for its well-kept appearance and range of amenities.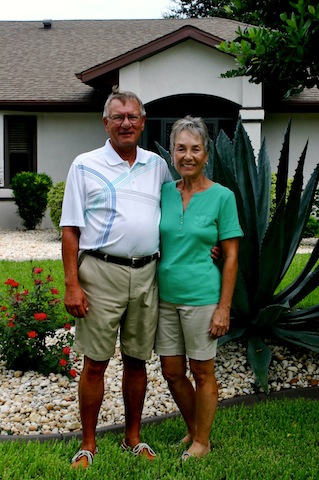 Rick and Reka Reaktenwalt were thrilled to become part of the friendly and exciting Royal Highlands community.
Lifestyle
At Royal Highlands, two community clubhouses provide an exciting range of indoor and outdoor amenities, including a fitness center with a covered pool, hobby, game rooms, and The Crown and Shield restaurant. An outdoor swimming pool lets residents enjoy the beautiful Florida sun, while resident golfers—including Rick and Reka—appreciate the challenging play at the 18-hole Monarch golf course.
When asked about their hobbies, the Reaktenwalts say, "We're currently playing a lot of golf and riding our motorcycle." They are also involved in the Garden Club and are planning to check out some of the other community offerings, such as water aerobics, shuffleboard, dancing, and bingo. With so many activities available, it isn't hard to try new pastimes or plan a lifestyle around many different interests.
For the Reaktenwalts, active adult living is right in line with their personal philosophy: "We feel that the Golden Years should be just that! They are the years that you fill with all of the activities, friends and family that bring laughter and joy. They are years that should be totally and completely enjoyed, and we feel that Royal Highlands has placed us in a community that will bring all of this to us".