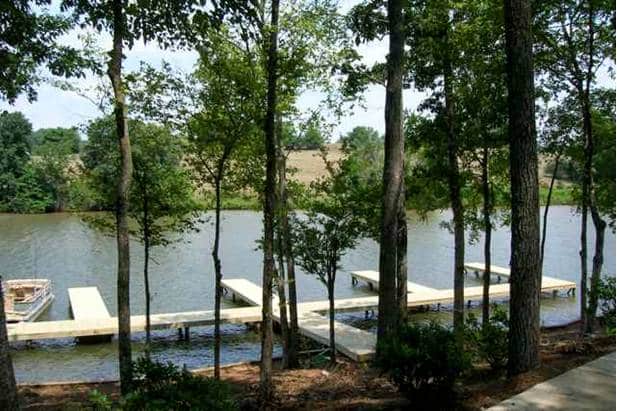 While a resort-style community may appeal to many active adults, others cherish the dream of a rural retirement. These retirees imagine tranquil living in a picturesque home, perhaps nestled in a wooded area or situated near a scenic lake. The small towns in these rural locations have their own charm, without the hustle and bustle of popular, tourist-friendly retirement destinations.
Active adult communities that are found in rural settings provide both the benefits of living close to others of a similar age, and the charm of small town living. These age-restricted communities are often smaller than their sprawling resort-style counterparts, yet still offer amenities, social clubs, and community events that encourage an active lifestyle. Although they may feel like their own small town within their rural setting, these communities typically strive to maintain a country-feel and blend in with the area's surrounding natural beauty.
Del Webb at Lake Oconee
Though Georgia was once just a stop along the way for retirees traveling south to Florida, a growing number of active adults have opted to make this picturesque state home. While many areas of Florida are well-known tourist attractions, communities throughout Georgia offer the tranquil, laid-back lifestyle of the Old South.
For those who want to combine resort-style living with rural community charm, Del Webb at Lake Oconee is an ideal retirement destination. Located 75 miles east of Atlanta in Greensboro, this Georgia community enjoys a country setting on a navigable lake. Over 30 percent of this community is preserved in its natural state, and large home sites lend to the community's rural appeal. Although it enjoys a country setting,
Del Webb at Lake Oconee also provides an active lifestyle with such amenities as a spacious clubhouse, state-of-the-art fitness center, swimming pools, hobby and game rooms, and sports courts for tennis, bocce ball, and pickleball. Residents can also enjoy a croquet field, horseshoe pits, a softball field, a lakeside pavilion with grills, prime fishing locations, and a marina with 38 boat slips. No matter how populous, nearly every state has its own rural areas that feature small towns with historic appeal.
Legacy of Leesburg
Though Florida is a prime tourist destination, there are many rural communities tucked away throughout the state. One such age-restricted community, Legacy of Leesburg, is renowned for its ancient oaks, scenic lakes and abundant conservation areas. The community also features miles of nature trails, which wind along an unspoiled stretch of the Palatlak River. As in many rural active adult communities, the residents at Legacy of Leesburg can enjoy the charm of a nearby small town. In addition to its quaint shops and restaurants, Downtown Leesburg offers community events such as the annual Chili Cook Off.
Saddlebrook Farms
Many small towns throughout the country feature their own historic districts with locally owned shops, restaurants, and museums. Northern active adult communities also offer rural retirement appeal. Located in Grayslake, Illinois, Saddlebrook Farms features nature preserves, beautiful lakes, and its own working farm. The ranch-style homes, each with its own front porch, are designed with cozy neighborhood appeal. Plenty of country living amenities include fishing piers, a community garden, and miles of nature trails.
Rural retirement can be a quiet, slow-paced alternative to the suburban sprawl or tourist attractions of other popular retirement locations. However, there is often a trade-off as rural retirees may have a longer drive to healthcare facilities and other services. Those living in isolated areas may face additional risks if they do not have neighbors nearby to help in the case of illness or accidents.
By building active adult communities in more rural locations, developers hope to offer retirees a happy compromise: the natural beauty of a country setting and the support that comes with a close-knit community of neighbors.