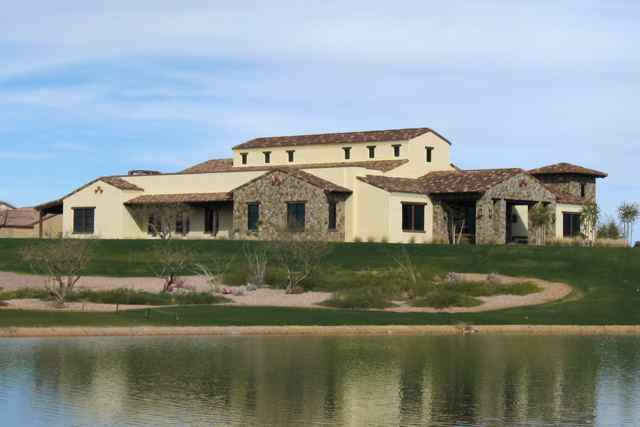 Located in Oracle, Arizona, just 20 miles north of Tucson, SaddleBrooke Ranch provides an exciting lifestyle in a beautiful Sonoran desert setting. This Robson Communities development has been specifically designed to appeal to active adults aged 55 and older, but the community welcomes all residents 40 and up. Highlights of its fabulous features include an 18-hole championship golf course, an amenity-rich clubhouse, and attractive single-family homes in over a dozen different designs.
Amenities
In SaddleBrooke Ranch, social and recreational activities are centered around its new 37,000 square-foot clubhouse, La Hacienda Club. This state-of-the-art facility opened its doors at the end of 2010, offering residents an impressive lineup of amenities.
At La Hacienda Club, the Viva Fitness Center is fully equipped with both cardiovascular and strength training equipment, as well as an indoor lap pool. Social activities are supported through various hobby and game rooms, and with casual dining at the Bistro Veinte restaurant and bar. There are even options for relaxing and pampering at the full-service Esperanza Spa and the Salon Del Sol.
Outdoors, SaddleBrooke Ranch's amenities continue with sports courts for tennis or pickleball. The resort-style outdoor swimming pool features beach access and a resistance channel, as well as an adjacent lap pool and whirlpool spa. Resident golfers will love the SaddleBrooke Ranch Golf Club with its 18-hole championship course set against a spectacular mountain backdrop. It also includes a driving range, a golf pro shop, and a casual restaurant called The Shack.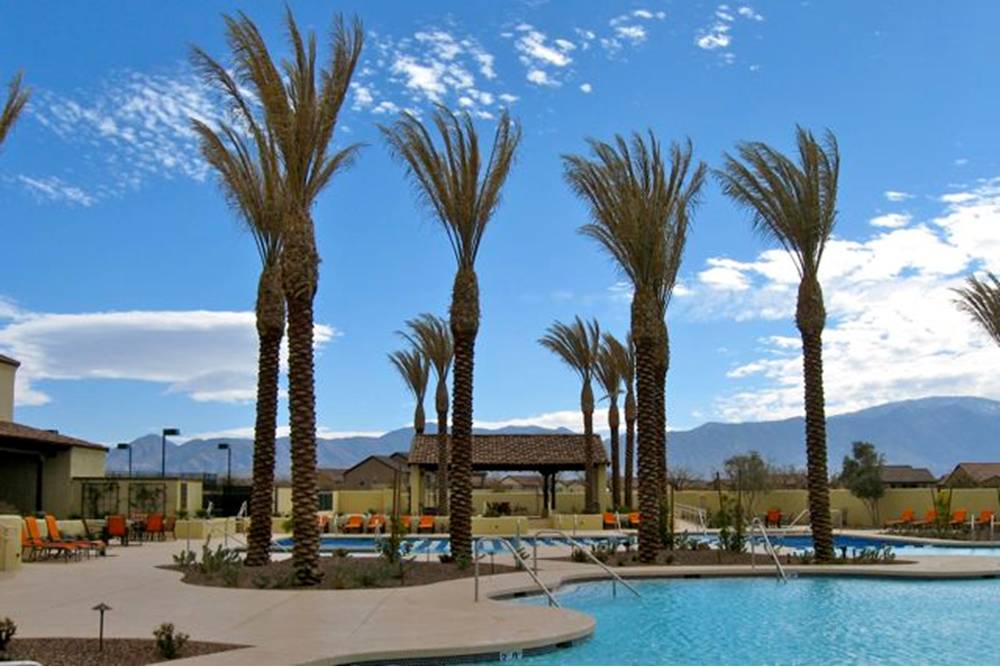 Cool off and relax on a sunny Arizona day in this sparkling resort-style swimming pool.
Residences
When it comes to residences, SaddleBrooke Ranch includes a variety of one-level, single-family new construction homes. Designs in this active adult community are divided into three basic collections: the Tradition Home Series, the Premiere Home Series and the Estate Home Series. Each home at SaddleBrooke Ranch is designed with open concept living and carries a HERS rating for energy efficiency. A range of options let homebuyers further customize their chosen home.
Homes in the Tradition Home Series at SaddleBrooke Ranch range from 1,486 to 2,007 square feet. They include two bedrooms, though most also feature a den and the option of a third bedroom. Homebuyers who want larger homes can opt for a design from the Premiere Home Series (2,046 to 2,576 square feet) or the Estate Home Series (2,615 to 2,808 square feet). Every home has an attached two-, two-and-a-half- or three-car garage.
Location
Since SaddleBrooke Ranch opened in 2008, it has been a welcoming community for active adults who want to live in Southern Arizona. Its prime location is less than one hour north of downtown Tucson and only two hours southeast of Phoenix. Yet its fabulous amenities provide residents with plenty of recreation without ever leaving the community.