Your home should be a sanctuary, where you can go to retreat and relax. But if you don't feel safe, it doesn't matter how nice or comfortable your house is. To truly enjoy your home, home security must be a priority. It's important that your surroundings are as safe as possible to lower the risk of dangers such as falls. However, that isn't the only safety issue older adults must consider.
Unfortunately, criminals may target seniors when planning crimes such as robbery. The reasons are simple: People over 55 often have more disposable income. Therefore, they have higher value items to steal, and some might assume that they're more physically vulnerable.
But criminals aren't prepared for today's senior. Not only are people over 55 more active and stronger than past generations, but they're better informed than ever. You don't have to feel like a sitting duck in your own home. There are some basic ways to make your home safer.
Here are nine tips to help you increase your home security.
1. Good Neighborhood Security
If you're in the process of looking for a home, consider how secure the area is. This isn't just about being in a "good" neighborhood. Well-lit streets and parking lots make a neighborhood unattractive to prowlers. A gated community or one with security guards also discourages people from spending too much time checking out property that isn't theirs.
Motion-detection lights outside the house will give you a warning if someone is approaching. And they're often enough to chase off would-be intruders. If doors are well-lit, it makes it easier to spot someone who is trying to break in. Try to illuminate any areas of access to the home.
3. Secure Windows and Doors
It may seem obvious, but simply locking out potential intruders is a powerful tool. Make sure that your windows and doors are sturdy and well installed, so they aren't easy to force open. You should also keep them closed and locked as much as possible, whether you're home or not.
If you need emergency assistance but don't have a phone handy, a smart speaker can help. Devices like a HomePod or Echo are voice-activated. They can call 911 for you, and all you have to do is ask. Once you get used to using a smart speaker, you may find that they make your life easier in many ways.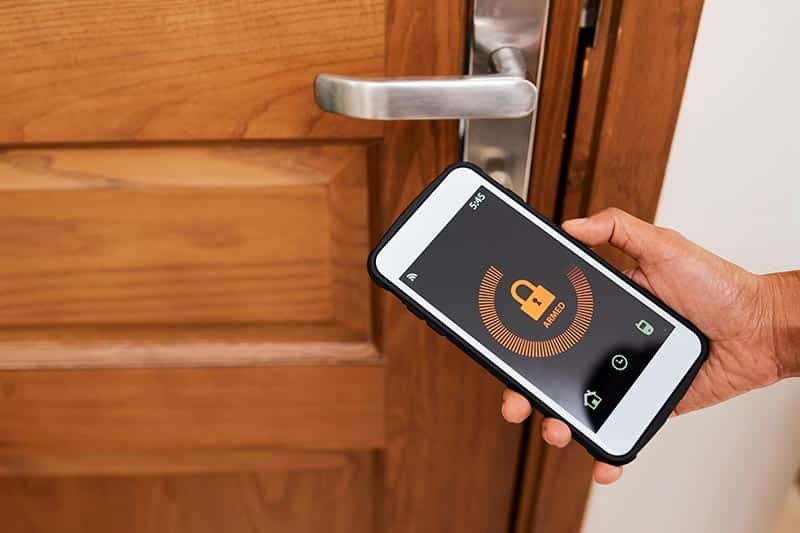 A security system can be invaluable for ensuring you have emergency support, whether you need the police, fire department, or emergency medical services. It provides access to emergency services at the touch of a button. When you have an alarm installed, it can notify emergency services if you have a break-in, fire, or medical emergency.
A smart security system goes one step further, connecting these alarms to your phone or tablet. This makes it easy to control them from wherever you are, so you don't even have to get out of bed to turn on the alarm if you forgot it. 
A good smart security system is simple to control at the touch of a button. It makes it possible for you to see everything your security cameras do. You can check who is ringing your doorbell or what made your motion detection lights come on in the backyard. It's even possible to turn lights on and off and lock doors remotely. You can also control security system features from a smart speaker.
6. Remove Helpful Items From the Yard
Normal items that you would find in a yard can be used to make it easier to break into a house. Someone who is trying to get into your home can use a hammer to break glass, a ladder to gain access to a window, or even a bench to help climb over a railing. Take a look around your yard and consider what a criminal might use to help them gain access, and put it away. 
Even decorative items that are placed by the front door, such as bushes or chairs, can provide a hiding place for someone who is waiting for the right moment to force entry. Keep the area around the door clear, cutting back shrubs and moving decorative items away.
7. Connect With Your Neighbors
Getting to know the people who live nearby is not only friendly, but it also increases the safety of the entire neighborhood. People who know each other are more likely to notice when something is amiss. If your neighbor is aware that you're at your book club but sees someone walking around in your house, they know that something is wrong. A concerned neighbor is often the first home security alarm. He or she can alert the authorities long before you would get home and realize someone has broken into your house.
8. The Right Fence and Gate
A sturdy fence that's hard to climb over, along with a locking gate, can make it hard to get to your house. However, keep in mind that it's best to choose fencing that you can see through, so it doesn't give cover to intruders once they get inside the fence. It's always a good idea to be able to see your front door from the street.
9. Easy Access to Medical Facilities
No matter what emergency services you need, whether it's police officers or medical care in case of an accident, it's vital that those services are quickly available. In a worst-case scenario, if you're injured in your home, having speedy access to medical facilities gives you the best chance of a full recovery. It's an important factor to consider if you're looking at homes in rural areas.
If you're 55 or older and looking for a place to live where you can feel safe, we invite you to check out 55places. We offer a wide range of residences that are designed to meet the needs of busy seniors, including gated communities for the best in home security. You don't have to sacrifice safety to live a full, active life.