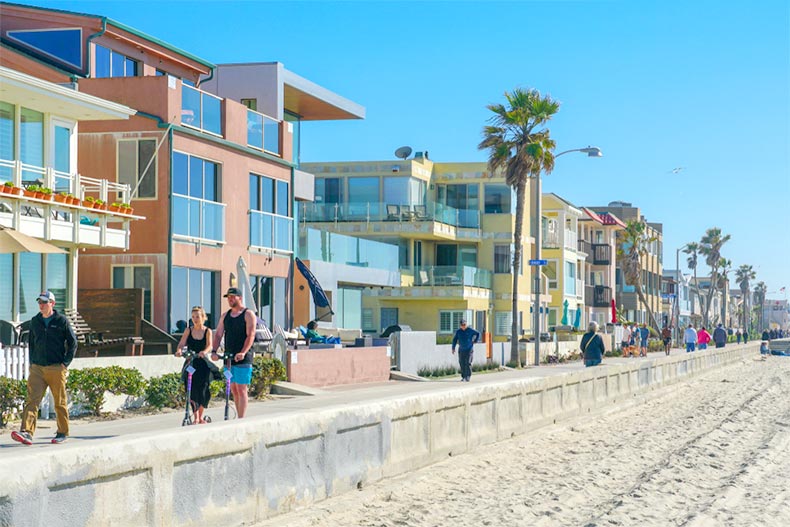 Many active adults seek out condominiums when they start looking for an active adult or a 55+ community to move into, for a variety of reasons. Condo-living often equates to an affordable and social lifestyle that may be more carefree than a traditional, single-family home.
In addition to this, condos offer low maintenance, as many expenses such as roofing and landscaping are shared or covered by the community's HOA, and there's no yard work or lawn to mow.
Condominiums are also an attractive choice because they offer the safe and social benefits of living in a shared community. Generally speaking, condos are also a good deal more affordable than freestanding homes because they require a smaller area of land.
Here are some active adult communities in San Diego offering condos:
Oaks North — San Diego
Active adults looking for plenty of action right near San Diego's vibrant downtown scene will want to consider Oaks North. This sprawling 55+ community is comprised of eight separate neighborhoods, each offering a distinct homestyle, but all sharing resort-like amenities and access to the beautiful golf course.
Oaks North offers potential homebuyers a wide range of home styles and sizes, including 1,963 condos, attached-homes, and single-family homes. Built from 1976 to 1987, the community offers resale condos that range in size from approximately 1,096 to 1,451 square feet. Most of these condominiums offer two bedrooms, two bathrooms, and a detached garage or assigned carport.
Amenities at Oaks North are staggering, with Oaks North Center as the center of the action. Inside are meeting rooms, a billiards and card room, an arts and crafts studio, a library, a woodworking shop, and a ceramics studio. Outdoors, residents enjoy an outdoor pool and patio, two tennis courts, walking and biking trails, a 27-hole golf course, and even a historic winery onsite.
Villa Trieste — Oceanside
Offering a smaller, more intimate 55+ community, Villa Trieste offers potential homebuyers gorgeous views, ocean breezes, and the idyllic Mediterranean climate of Oceanside.
Although this quaint active adult community (with 150 condos and attached homes) is on the smaller side, it doesn't lack in amenities. It features a clubhouse, outdoor pool and spa, library, card room, barbecue area, and much more.
Built from 1991 to 1995, Villa Trieste offers either condo or duplex resale homes. Condos come with two bedrooms, two bathrooms, and range from 1,000 to over 1,300 square feet. Each condo offers either a patio or balcony, as well as a fireplace and a one-car detached garage. Each duplex offers two bedrooms, two bathrooms, an attached two-car garage and ranges in size from 1,700 to over 1,800 square feet. Some of these homes offer ocean views.
High Country Villas — Encinitas
Only three miles from the ocean, High Country Villas is a 55+ community with 546 condo and attached homes with beautiful views of rolling hills and the Pacific Ocean. High Country Villas is located in the historic town of Encinitas, only 25 miles north of San Diego.
Potential homebuyers should note that the single-story attached homes in this community are 55+ while the two-story condominium homes are not age-restricted. Built between 1973 to 1985, High Country Villas offers single-level homes that range in size from 884 to 1,056 square feet. Smaller condominium units include two bedrooms and one bathroom, and larger units offer three bedrooms and two bathrooms.
Amenities at this active adult community abound, with a 9-hole golf course, a driving range, and putting green as well as two swimming pools with spas, bocce ball and shuffleboard courts, and plenty of open greenspace. Indoors, residents enjoy the clubhouse and fitness center as well as the library and game room.
Oceana — Oceanside
Oceana is a large active adult community of 2,000 homes built from 1964 to 1984, featuring resale condos as well as attached and single-family homes for sale. This 55+ community is located only four miles away from the ocean in the beach town of Oceanside. Those who love the beach and everything coastal will appreciate the casual beach town vibe of the area.
Single-family homes range in size from 1,255 square feet to 1,620 square feet and offer one to two bedrooms, one to two bathrooms, and an attached two-car garage. Attached and condominium homes range in size from 660 square feet to 1,099 square feet and feature one to three bedrooms and one to two bathrooms.
Active adults won't need to go far to find many appealing attractions, including Knotts Berry Farm, Disneyland, and the San Diego Zoo, all less than an hour's drive away. Closer to home, the amenities at Oceana include the clubhouse, the ceramics or woodworking workshop, and miles of outdoor walking and biking trails. Residents enjoy two outdoor pools, a community garden, barbecue areas, a spa, and an adjacent offsite golf course (where Oceana residents enjoy discounted green fees.)