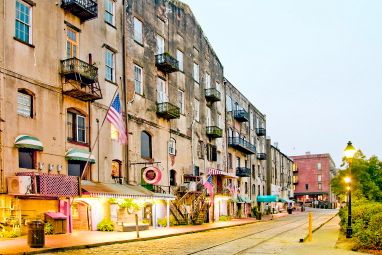 When it comes to retiring on the East Coast, many active adults have discovered the joy of living in Savannah, Georgia. This beautiful area features charming historic districts, live performing arts venues, shopping and dining. Savannah is also 20 minutes from the beaches at Tybee Island and less than an hour from Hilton Head Island, South Carolina.
Climate
As part of the Deep South, Savannah experiences semi-tropical summers and mild winters. However, its coastal location makes for temperatures that are less extreme than in more interior Georgia areas. Humid summers have average daytime temperatures in the mid-90s, with record highs over 100 degrees. Mild winter days are typically in the low to mid-60s, with rare snowfall and few nights that drop below freezing.
Attractions
Savannah is Georgia's oldest city, established in 1733. Today, it features diverse neighborhoods and multiple historic districts. A variety of tours take visitors through unique parts of the city, some including trolley or horse-drawn carriage rides. Popular tourists attractions include Bonaventure Cemetery, Cathedral of Saint John the Baptist, Fort Jackson, the First Girl Scout Headquarters, and many historic homes. Coastal riverboat tours and dolphin tours are also available.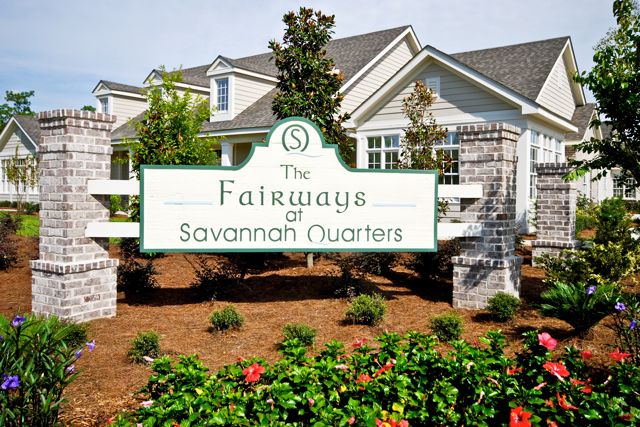 The Fairways at Savannah Quarters offers elegant gated living just 12 miles from historic downtown Savannah.
Like most large cities, Savannah offers a thriving arts and cultural scene. Visitors and locals alike can enjoy performances by many companies, including The Savannah Theatre, The Savannah Philharmonic, The Coastal Jazz Association, and the Savannah Dance Theatre. There are also a variety of annual festivals, such as the Savannah Book Festival, the Savannah Music Festival and the Savannah Jazz Festival.
Savannah's restaurants celebrate regional flavors along with cuisine from around the world. Fresh seafood is a local favorite, and Savannah Riverboat Cruises combine fine dining with great sightseeing. When darkness falls, Savannah's nightlife heats up with live music and memorable drinks. Just a few hot spots include The Distillery, Jazz'd Tapas Bar, Rocks on the Roof, and Lulu's Chocolate Bar.
With its coastal location, Savannah also features five miles of public beaches on nearby Tybee Island. This beautiful destination offers swimming, boating, sailing, fishing, sunbathing, and more. Visitors may even spot Dolphins swimming in the ocean waves.
Active Adult Communities nearby
Active adults who decide to settle in the Savannah area can find charming homes in the surrounding suburbs. The city of Pooler features two ideal communities: Westbrook Villas at Savannah Quarters and The Fairways at Savannah Quarters. Each of these open-age neighborhoods have less than 100 homes, yet they also include amenity-rich clubhouses, swimming pools and outdoor recreations. Residents also have access to the 18-hole golf course at the Savannah Quarters Country Club.
Whether planning a Southern vacation or looking for a retirement destination, Savannah is an ideal spot for active adult retirees.