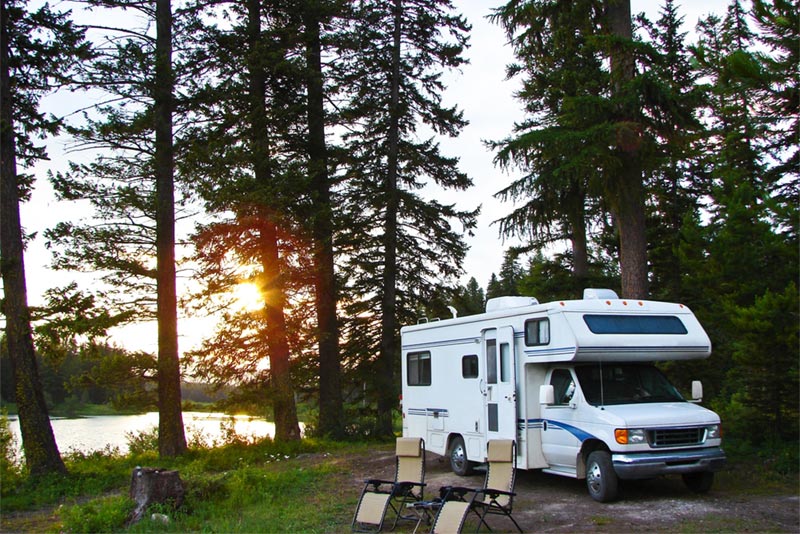 People just starting to enjoy active adult living often return from long vacations quite ready to sleep in their own beds again. Although we all love to get away, most of us also love to get home. But what if you could take all the comforts of home with you while you vacation? Would there be a good reason to ever stop vacationing? If you listen to one of the many proud RV owners in this country, they will tell you that a vacation never has to end. The best way to see this country is definitely by road and with American tourism trends tending "towards shorter, more frequent trips closer to home," the popularity of the recreation vehicle is on the rise.
Travel by RV allows vacationers independence and flexibility to go where and when they choose, as well as the freedom to stay a while and make friends wherever they may be. According to the estimates provided by a 2001 University of Minnesota Tourism Center study, eight million American households will own an RV by 2010, and "baby boomers account for the largest segment of RV ownership, as well as the fastest growing segment of the market."
RVs Head to The Rally
According to Reuters, the estimates from the University of Minnesota Tourism Center study have already been shattered. In March of this year, over nine million RV enthusiasts made their way to Perry, Georgia for four days of all things RV, simply titled "The Rally," hosted by the Good Sam Club.
From the latest in recreational vehicles, complimentary gadgetry, and industry information, to family-friendly live entertainment, The Rally provides RV lovers with the things they appreciate most–convenience and community. Not only is there is no wrong time to go RVing, there is also no wrong place to go. From coast to coast, and north to south, this country is made for travelers.
RVs Make it Easy to Travel
From mountains to beaches and everything in between, getting there and staying there has gotten easier and more enjoyable with the RV. According a 2002 report from the Travel Industry Association, "One in ten trips are generated by households that own an RV." One of the best aspects to RV travel is that vacationers are presented with amazing opportunities to explore this country and truly connect with the great outdoors while enjoying all the comforts of home.
Head South for Winter
During the colder months, RV enthusiasts flock to flourishing RV communities throughout the South and Southwest. An ideal island locale, Key West offers spectacular scenery and warm weather. It is a long drive though, and visitors often describe big expenses and large crowds.
Arizona Attracts Many RVs
While California and Texas make the list of perennial favorites for RV destinations, Arizona remains the top attraction for RV owners and their families. According to the Arizona Office of Tourism, the majority of its over 30 million visitors in 2006 came by vehicle, and more visitors came during the first quarter of the year, when a great deal of the country is in a deep freeze. There are many well-known and well-loved RV communities throughout the state and with mountains, deserts, and the Grand Canyon, there is something in Arizona for every type of nature lover. Tucson, Mesa, and Yuma are big draws for the RV crowd, but when it comes to character and reputation, the ever-popular active adult living communities of Quartzsite and the astonishing 50,000 RV sites there take the cake.
Wherever you may roam, RVs allow travelers a casual and convenient way to trek across this country while spending real quality time with friends and family. When all is said and done, active adult living is about the journey, not the destination. And in an RV, getting there is half the fun.