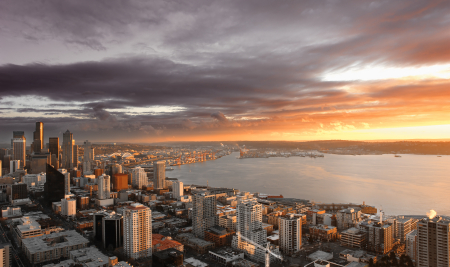 Known as The Emerald City, Seattle, Washington is a Pacific Northwest getaway with scenic beauty, diverse entertainment, and distinct regional culture. It's also an inviting retirement destination for active adults who enjoy a mild, somewhat rainy climate and an urban environment. If Seattle seems like a place you would enjoy, plan a visit to explore its attractions for yourself. The Emerald City might just be your ideal retirement destination.
Pacific Northwest Area
Seattle lies in a hilly region along the Puget Sound, just two hours from the Canadian border, Mount Rainier National Park, and the Pacific Coast. Other popular destinations within a three-hour drive of the city include Vancouver, Canada, and Portland, Oregon. Nature lovers can also enjoy the close proximity to Olympic National Park and North Cascades National Park.
Relatively Mild Weather
The Seattle area has a reputation for being very rainy, yet, according to Sperling's Best Places report, Seattle's average annual rainfall is 36 inches, which is one inch less than the national average. However, the region still may not be a good choice for retirees who prefer a sunny destination, as it averages 152 sunny days and 155 days of rain each year.
Aside from its cloudy skies, Seattle's climate is relatively mild. Winters are cold with days in the mid-40s and nights in the mid-30s, yet the area only sees about 11 inches of snow per year. Summers are warm, with daytime highs reaching very comfortable levels in the mid-70s.
High Quality of Life
In 2005, the Seattle area was listed as one of Sperling's Best Cities for Seniors, coming in at second place behind the nearby Portland, Oregon, area. It earned high marks in categories for health, transportation, and environment.
In 2009, Seattle also earned a spot on Money Magazine's list of Best Places for a Healthy Retirement. Seattle ranked number 10 on this Top 20 list, with special mention of its bike-friendly environment, its urban trail system, and the fresh produce available through local farmer's markets.
Seattle is also noted as one of the most literate cities in the country. Studies have shown that residents buy twice as many books as the national average and 80 percent of them have also registered for library cards. This could be particularly appealing for active adults who are interested in finding ways to exercise their intellect during retirement through local book clubs and discussion groups.
There are a large number of doctors and hospitals in the area as well, making it easy to find quality healthcare.
Distinct Regional Culture
While the region promotes active living through outdoor green spaces, trails, and nearby national parks, Seattle is also well-known for its cultural offerings. Residents can enjoy musical performances ranging from the Seattle Symphony Orchestra and Seattle Opera to rock-n-roll, jazz, and more played at nightclubs and local theaters. Seattle is also a great place for sports fans, as the city boasts three major professional sports teams.
Intimate Active Adult Communities
Just outside of Seattle, retirees will find fantastic options for active adult living. Trilogy at Redmond Ridge is a sprawling 55+ community just 20 minutes east of Seattle. It features a grand collection of amenities centered within and around a 32,000 square-foot clubhouse. It also features an 18-hole championship golf course, a spa, a cyber cafe, and an active social lifestyle.
A bit further from Seattle is Shea Homes at Jubilee in Lacey, Washington. This resort-style community offers 55+ residents world-class amenities and finely crafted homes in a picturesque setting.