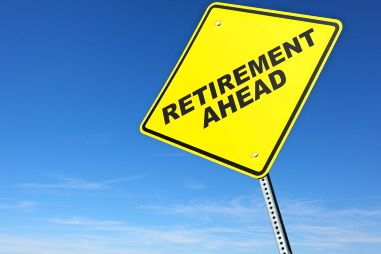 While many thrive in the new-found freedom of retirement, some find difficulty filling their blank schedules with activities they find meaningful. A Gallup poll revealed that 48% of retirees reported being happier than expected, while 7% said that they were disappointed.
So how can you ensure that your retirement is a happy one? The secrets are in financial stability, sincere relationships, and remaining physically and mentally active. The secrets to a happy retirement begin when you walk into the office for the first time, rather than when you clock-out after the last day.
Financial Footing
Here at 55places.com, we've talked a lot about preparing financially for retirement. Maxing out your 401(k), eliminating debt, and having additional retirement accounts are just some of the ways to have a financially sound retirement.
Insufficient financial preparation, in fact, is one way to guarantee a stressful, and ultimately short-lived, retirement. Although returning to work can be a great way to remain socially and mentally engaged, being forced to return to work can be a great burden. After all, retirees who go back to work should do so because they want to, not because their income is unsustainable.
According to the book You Can Retire Sooner Than You Think, the least happy retirees averaged an annual income of $42,000, while extremely happy retirees averaged $90,000 annually in household income. (Note that this is household, not individual, income). Happy retirees also report having at least $500,000 in liquid assets.
Happy retirees also report having two or three sources of income, typically a combination of a 401(k), Social Security, IRAs, or other investments. Predictability also seems to play a key role in financial contentment. Those with the highest anxiety about money? Retirees who depend mostly upon investments.
Friends and Family
There's a reason why active adult communities emphasize social events and clubs based around common interests: strong social connections correlate strongly with a sense of belonging, reduction in blood pressure, and can actually add years to your life.
In fact, retirees who report having a strong social network find they are 30% happier than those without. There are several ways for retirees to remain socially engaged whether it be volunteering, taking a class, or working part time. Not only will this expand your circle of friends, but will keep you engaged in a mental activity.
Social connectedness is also a matter of geography. Retirees who live in the city or suburbs report being happier than those who retire in rural areas, since more populated areas provide more opportunities for interaction and engagement with others. If you want to be close to a major city, check out our list of the Top 10 Communities Near Big Cities post.
Not sure where to start? A lot of the big-name active adult communities have a full-time activities director on staff who continuously plans events and activities for residents to get to know each other. These can range from informal parties to very specific interest groups. Sun City Huntley, for instance, has groups that range from jazz band to the amateur radio group.
Get Off the Couch
Physical fitness is extremely important when it comes to living a healthy and balanced lifestyle. Most active adult communities will spare no expense when it comes to their exercise facilities, providing cutting edge machines and some even employ personal trainers for their residents in order to meet the demands of 55+ homebuyers.
And all for good reason. A well-balanced exercise routine is the lynchpin of a healthy lifestyle, providing cardiovascular, muscular, and mental strength. In fact, retirees in poor health are nearly 50% less likely to report being happy. And what's more surprising? Health trumps all other factors relating to happiness, like money and age.
Yet there's another aspect to health that gets overlooked quite often: mental. The intellectually curious are two-and-a-half times less likely to suffer the effects of Alzheimer's disease. But intellectual pursuits aren't just defined as sitting in a classroom several hours a week. It can be learning a new language, picking up a hobby that requires focus, mastering an instrument, or writing about your favorite topics.  Several active adult communities partner with local universities to provide access to all of these activities.
Pursuing mental activities also gives life-long learners a sense of purpose and a sharpened understanding of their purpose in life. The more experiences and ideas you're exposed to the better you understand your own strengths and weaknesses, and the better you can employ the former and work on the latter. Progress and a sense of contribution correlate strongly with purpose in life and, through continuing to study and know yourself, the better equipped you'll be to have a happy retirement. You just might surprise yourself!