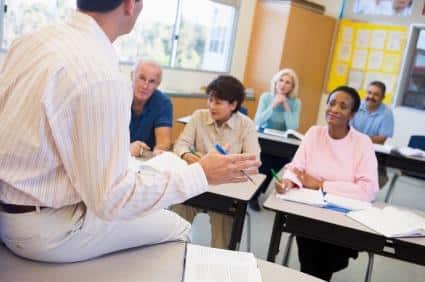 It is often said that 55+ communities are like college all over again but without the homework. If recent trends are anything to go by, then homework seems to be making an unlikely comeback.
Active adult communities in recent years have been placing a greater emphasis on mental activity. Although fitness centers, aerobics studios, and yoga classes remain must-haves in age-restricted neighborhoods, continuous learning has an ever-expanding presence in the list of amenities offered by today's most prominent builders.
Active Adult Communities
Trilogy, renowned for their popular resort-style communities, incorporates lifelong learning into their lifestyle offerings. Trilogy at Redmond Ridge partners with the University of Washington to offer courses to their residents and Trilogy Lake Norman, a new active lifestyle community in North Carolina, will provide classrooms in their planned clubhouse.
With education becoming more of a focus for active adults and retirees, many of them are opting to venture outside of their community for their educational needs and many institutions offer major tuition breaks or waivers to get seniors in their seats.
Location
Your options for returning to school depend heavily upon your location. University-rich areas, of course, have more opportunities for active adults to enroll in courses. But it can be tricky, as some universities will offer reduced, instead of waived, tuition.
Waivers
Some universities also only offer the waivers for specific courses and with the instructor's permission. A few schools only allow tuition waivers for credit-bearing courses, while others only offer it for noncredit courses. In short, the availability and requirements of tuition waivers are very fickle and depend heavily upon the institution and what courses the student wants to take.
Auditing
Auditing courses is a popular option for retirees who are merely interested in a topic. By auditing a course, students sit in on lectures and discussions but often don't have to do homework or take exams. The workload is typically decided upon between the student and the instructor.
Community College
Attending a community college is another popular option. According to a recent study, 84% of community colleges offer programs specifically for students 50 or better. Although some do offer tuition waivers, community colleges are often major bargains compared to their four-year counterparts, offering tuition rates at a fraction of the cost. Many adults choose community colleges not merely for the educational opportunities, but also to expand their social network by joining study groups, on-campus clubs, or attending college-organized events.
Scholarships
Many states also offer incentives for seniors to return to school mostly in the form of scholarships. Florida, for instance, offers the Senior Citizen Tuition Fee Waiver program for students who choose to audit courses. Alabama's Senior Adults Scholarship Program gives adults 60 or better free tuition to two-year colleges. States like Michigan, Illinois, Maryland, and Georgia offer a tuition waiver program for seniors.
Ready to hit the books? Before you do anything, you'll need to fill out the Free Application for Federal Student Aid (FAFSA for short). After filling out the form, you'll have a better idea of which scholarships apply to you directly and, if you're eligible, you'll also see which federal loans you could receive so you won't have to depend on the (very expensive) private market.
Then, check out StudentScholarshipSearch or FastWeb to see which scholarships you're eligible for. Then buckle down, hit the books, and enjoy college all over again.