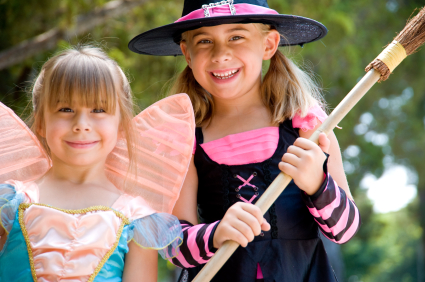 Costumes, candy, parties, trick-or-treating and spooky stories. There is something about Halloween that brings out the kid in us all. It's a great time for making memories with grandkids and the perfect photo op for capturing family fun. But Halloween isn't a holiday for the kids alone. Baby Boomers can have just as much fun at costume parties today as they did when they were growing up.
While trick-or-treating for free candy brings its own excitement, dressing up in funny or spooky costumes is easily the best part of Halloween. For kids, and some adults, the costume planning begins weeks before the holiday with online searches and trips to the local party store. Costumes may be handmade or bought from stores with a dizzying array of choices.
As Baby Boomers look around they may see costumes with the same themes of their childhood or creative takes on modern culture. Older adults probably have memories of more classic costumes, like pirates, clowns, skeletons, robots, cowboys, princesses, witches or ghosts. The youngest Boomers might also remember dressing up as hippies, painting their faces like Kiss or being the first to have costumes from the Star Wars craze.
While classic costumes are still popular today, there are also many pop culture creations. Baby Boomers are likely to recognize superheros and characters from popular movies, but they may puzzle over grandkids dressed as video game characters, pop stars or their favorite Internet memes.
For grown-up costume parties, Baby Boomers may want to turn back toward their classic roots with updated pirates, superheroes, vampires and the like. Couples costumes will also never go out of style with pairings like Caesar and Cleopatra, Romeo and Juliet, flappers and bootleggers, or kings and queens.
Whether you're dressing up this year, taking your grandkids trick-or-treating, or wandering down memory lane with snapshots of your own childhood costumes, we'd love to see your fun Halloween photos on our 55Places.com Facebook page. The most unique, funny or creative photos we receive will be featured in a special blog post on October 30th.
If you'd like to submit your favorite Halloween photos, just visit the 55Places.com Facebook page. On the left side of the page, just below the banner, you will see a place to post comments or pictures. Click the blue "Photo/Video" link, then the "Choose File" button to upload your picture. Don't forget to add a comment telling us about your photo!
Please feel free to submit photos of your kids, grandkids or yourself (current or past) in your favorite Halloween costumes!