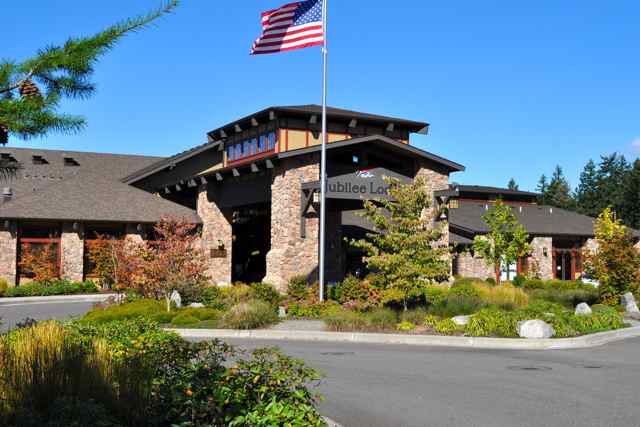 Jubilee at Hawks Prairie, in Lacey, Washington, has a new owner and a new name. In June 2010, Shea Homes purchased the existing development from Jenamar Communities, and renamed the community Shea Homes at Jubilee. What does this mean for current residents and what plans does Shea Homes have in store for this resort-style community?
Shea Homes at Jubilee Amenities
The new Shea Homes at Jubilee continues to offer the same great amenities that were developed as part of the original Jubilee at Hawks Prairie community. The community is built around a beautiful championship golf course and a 26,000-square-foot amenity center. This spacious community clubhouse contains a variety of amenities, such as an indoor swimming pool, a state-of-the-art fitness center, an arts and crafts studio, library, billiards, and a ballroom. Outdoors, there are pickleball, bocce ball, and basketball courts, patio, and grill.
Shea Homes at Jubilee Homes & Real Estate
According to a press release from Shea Homes, the company plans to expand the community by building new homes as well as a new on-site sales center. To best meet the needs of potential new homeowners, the developer will offer a mix of its best-selling Shea Green Certified homes and the most popular plans from the existing Jubilee lineup as homes for sale. New homes plans will be single-story and range in size from 1,200 to 2,500 square feet.
Those unfamiliar with Shea Green Certified homes will be impressed by all of the eco-friendly features they include. A few of these important features include solar electricity generation systems, solar-powered attic fans, Energy Star appliances, low-e windows and high-performance insulation. These quality homes are built to be energy efficient, which is good for the environment and for the homeowner's wallet.
Shea Homes 55+ Communities in Washington
With Shea Homes' stellar reputation for building quality eco-friendly, energy-efficient homes, and its strong experience with age-restricted active adult communities, the builder will likely do well with this new acquisition. Shea Homes is also no stranger to developing communities in the state of Washington. The popular Trilogy at Redmond Ridge in Redmond, just outside of Seattle, is a thriving community with over 1,500 homes, a 32,000-square-foot clubhouse, and exciting amenities such as an 18-hole championship golf course and the rejuvenating Tranquility Spa.
Those who live in the Seattle area, or who are considering relocating to Washington, would do well to consider Shea Homes at Jubilee. As Richard Obernesser, Shea Home's area president and general manager, stated in the company's official press release, "we are honored to continue serving the 1,000 people who have made Jubilee their home and look forward to welcoming their future neighbors."
Request more information about Shea Homes at Jubilee.