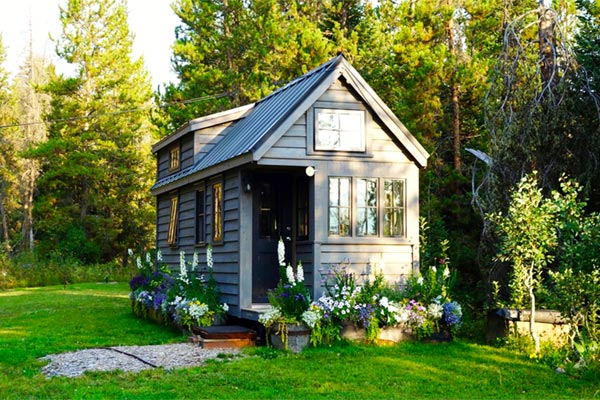 The tiny home movement is growing in popularity amongst retirees looking for a more simplified lifestyle.
The tiny home movement has gained tremendous speed over the last decade. Homeowners are eschewing the traditional attached and single-family home for something smaller and more efficient. Not coincidentally, no demographic has bought more tiny homes than active adults.
The Tiny Home Movement
The movement gained traction for a variety of reasons. Tiny homes have been used as a solution to dense, overcrowded urban areas suffering housing crises, particularly in Europe. They've also grown popular among those looking for a more minimalist lifestyle by consuming less and using only what they need.
Homes classified as tiny or small are generally considered to be under 500 square feet, but there is no official guideline. Many homes less than 1,000 square feet are considered part of the movement. Another huge aspect of tiny homes is mobility. Much like campers and RVs, tiny homes can be moved and are great for those looking for a more nomadic retirement.
Tiny houses include everything a resident would need, including a bathroom, a sleeping area, a lounging area, modern kitchens, and storage space. Building a home for convenience doesn't usually mean the end result will be particularly nice to look at. However, tiny homes buck that trend. Many end up as the focus of spreads in architecture, real estate, and design magazines.
The Desire to Downsize
Well, this may seem like more a trend for younger generations, two of out every five tiny home purchases are done by those 50+, according to The Tiny Life. One reason for their popularity among baby boomers is they've become an affordable option for retirees with little savings. Another reason is simply due to downsizing.
One of the biggest reasons those 50+ buy a new home is to downsize. In the past that meant switching to a single story or attached home which requires little upkeep. 55+ communities have been a major asset for active adults looking to enjoy a low-maintenance lifestyle.
Now, tiny homes have become an alternative option for retirees looking for less space and less maintenance. While no age-restricted tiny home communities have been developed as of yet, most tiny home communities offer the same benefits of an active lifestyle neighborhood. Those communities are growing at an incredible rate and a unique alternative for active adults looking for something different than a traditional age-restricted community.
Pros and Cons
What are the pros and cons of downsizing into a tiny home community or an active adult community? Essentially, you'll be getting the same thing but on different scales. The biggest saver when downsizing is energy. Less space to heat, cool, and light means less money spent on utilities.
The average cost of a standard-sized home in the United States is $272,000, not including the extra costs if a mortgage is required. The average size of a tiny home is only $23,000 if built by the owners, and usually around $50,000 if a builder is required. The costs between the two are enormous and might give some active adults pause while considering which way to spend their golden years.
The main consideration someone should take when deciding between a tiny home or an active adult community is can they enjoy life in such a small space? Considering the number of active adults purchasing tiny homes, it seems many are willing to accept the trade-off. However, for now, you don't automatically get the benefits of an active adult community, such as close neighborhood, a community clubhouse, and central location for activities and events.
Second Residence
There are uses for a tiny home beyond a primary residence, however. Tiny homes could be a convenient option for those 50+ as a second residence. You can live in an active adult community most of the year but also have a tiny house located elsewhere for vacations or getaways. Not unlike a timeshare, except you're not sharing it with anyone. Or if someone in your family is visiting, or needs a temporary place to live, the tiny house can provide that space.
Home On the Go
Perhaps the most popular reason active adults purchase a tiny home is for mobility. If your children are scattered across the country, having a tiny home to travel with means you always have your own space.
Maybe you simply can't decide on one way to spend your retirement? A tiny home can travel with you wherever you want to go, be it a beachside property, the mountains, or a quiet spot in your hometown.
Whatever your desire is, it's clear the tiny home movement is here to stay for active adults.