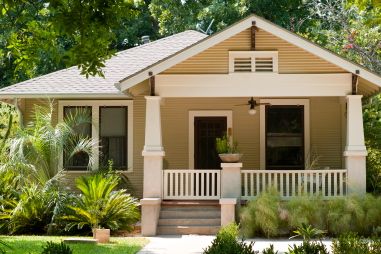 A study by the National Association of Home Builders shows that today's homebuyers are more likely to buy smaller homes than in past years. This trend certainly applies to active adult homebuyers as well, and 55+ community builders are adjusting their development plans accordingly.
The Benefits of Smaller Homes
There are several reasons behind the popularity of smaller homes. For one thing, the recent economy has caused homebuyers to reevaluate their living needs and opt for more affordable homes. This generally means smaller floor plans without extras like bonus rooms, spacious foyers, or additional bedrooms for out-of-town guests.
Smaller homes are not only more affordable to buy, but also more affordable to maintain. Less space makes for less expensive utility bills and fewer rooms mean buying less furniture and decorative items. It is easier to clean a smaller home yourself, and it's cheaper if you decide to bring in a maid service to clean it for you.
Smaller Home Trends
However, choosing a smaller home does not necessarily mean living in tiny rooms. Current design trends call for open floor plans which make the most of space without adding unnecessary square footage. Formal living rooms have been disappearing from floor plans and many homes feature a larger great room which combines the kitchen, dining room, and family room in one flowing space.
Those who have occasional overnight guests often find that a roomy den is more important than a dedicated guest room. Quick-to-inflate airbeds can be easily stored away and brought out when guests come to town, and today's more comfortable sofa beds are another convenient way to let a den or home office double as a cozy guest room.
Communities with Smaller Homes
Active adult communities across the country are noticing the demand for smaller, more efficient homes and are adjusting their plans to meet this need. Edgewater, a Del Webb community in the Chicago area, is a good example of this trend.
While this popular community's fourth and final phase was originally designed for homes ranging from 2,000 to 2,500 square feet, it has recently been redesigned to feature single-family homes sized between 1,200 and 1,900 square feet.
For many active adults, a smaller home makes good financial and practical sense. Newer designs use efficient floor plans, large windows, and multi-functional rooms to make smaller homes feel more spacious. They let you save money upfront and during day-to-day living.
What do you think? Is a smaller home an attractive option during retirement? Do today's open floor plans seem to be a more efficient use of space, or do you miss having options like formal dining and living rooms? Let us know in the comments below.