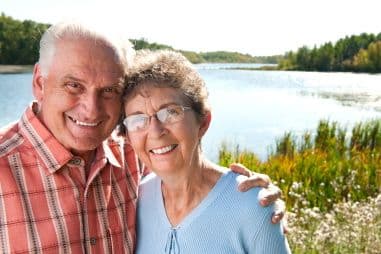 Located on the banks of the Mississippi River in Minnesota, Winona State University offers many lifelong learning opportunities for 55+ residents of Minnesota. The university is highly lauded for their Snowbird University program, where temporary residents can beat the heat in engaging programs.
Snowbird University Experience
Snowbird University is a lifelong learning opportunity that is structured much like summer camp, but for active retirees. Each summer, the University Apartments at East Lake offer 100 furnished apartments to visiting retirees. There are four-bedroom, two-bedroom, and one-bedroom apartments, each with a full kitchen, a washer/dryer unit, and storage closets.
The apartments are situated between the Mississippi River and Lake Winona, making it an ideal location for retirees who want to escape the oppressive summer heat in places like Arizona or Florida. The beautiful setting offers fabulous views of Sugar Loaf, Lake Winona, and the bluffs along the Mississippi River. Just across the street from the apartments, retirees will find a five-mile walking path, softball fields, volleyball and tennis courts, and picnic pavilions.
Retirees who apply to Snowbird University will also take part in the WSU Learning Club. This non-profit organization is dedicated to the continuing education of retired people. During the summer, special activities, presentations, local tours, and learning programs are available for the retirees participating in Snowbird University.
In addition to the learning opportunities and local area activities, retirees attending Snowbird University can also sign up for some special Winona State University amenities. Retirees will have access to the WSU swimming pool and the Darrell W. Krueger Library. They can optionally purchase a Purple Pass dining card or a punch card pass to the WSU Wellness Center. Visiting retirees can even rent a laptop to use during their stay.
Area
The Winona area has many charming restaurants, regional museums, and cultural attractions. Active adults can try local wines at Garvin Heights Vineyard, learn more about the area at the Winona County Historical Society, or see a performance at the Theatre du Mississippi. Local eateries range from cozy cafes to familiar chains to locally-owned restaurants.
In the summer, the Winona area hosts a variety of special events, including many that are located right at Winona State University. Retirees can enjoy events such as the Great River Shakespeare Festival, the Southeast Minnesota Regional Juried Art Exhibition, the Minnesota Beethoven Festival, and the Winona County Fair.
For snowbirds who live in hot areas, escaping to a cooler climate during the hot summer months is an attractive option. At Winona State University, retirees can pursue lifelong learning opportunities while enjoying a stay at Snowbird University in the beautiful Winona area.