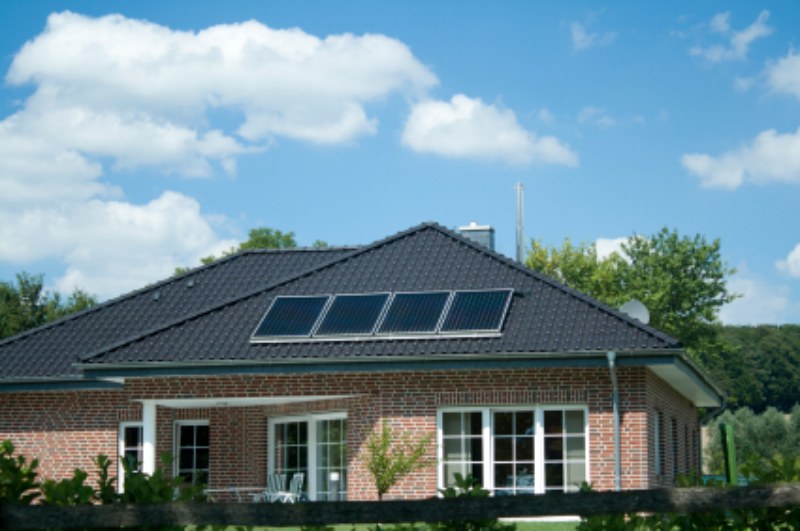 For many active adults, Green building practices are an important part of choosing an age-restricted community. These environmentally-friendly practices often reduce energy consumption, which is good for the environment and good for the household budget. In recent years, developers have offered an increasing number of energy-saving options, including the very recent addition of solar power roof tiles.
Solar power is an attractive energy-saving feature, but one that can be intimidating to install in an existing home. Solar panels are expensive and the systems can be complicated when attempting to retrofit them to an existing roof. Yet in some active adult communities, solar power options have become an easily chosen option when building a new home.
Del Webb, America's leading active adult community developer, now offers SunPower SunTiles as an option on some of their new homes. These solar roof tiles are integrated with the rest of the roof and are used to convert sunlight into usable electricity. There are many benefits to the SunPower System including lower monthly electric bills and Federal tax credits for installing a solar power system. SunPower Systems also come with a 25 year warranty.
About a year ago, Woodbridge by Del Webb became the developer's first community to offer solar power roof systems as an option on new homes. According to PulteGroup, Del Webb's parent company, the solar power option at Woodbridge has been chosen by about 30 percent of the the community's homebuyers. In fact, the system has proved so popular that solar power options may soon begin to turn up on Del Webb properties throughout the country.
Yet Del Webb is certainly not the only 55+ community developer offering solar power options. Lennar's PowerSmart homes feature many energy-saving options, including solar power systems. While Lennar's PowerSmart homes currently include all-age communities in only certain California markets (Fresno, Riverside, Sacramento, and San Francisco), clearly Lennar recognizes the growing consumer interest in solar power systems.
Likewise, Shea Homes have long been a proponent of environmentally-friendly building practices. Their Trilogy communities, designed for active adults aged 55 or better, are Green certified and include many energy-saving features. By opting for one of Shea Homes' Green Packages, homeowners can add solar power to their energy-efficient homes.
Solar power systems may not yet be standard options at all active adult communities, but they are beginning to show up in new home developments across the country. As 55+ community developers such as Del Webb, Lennar and Shea Homes begin to see how popular solar power systems are with homebuyers in their initial markets, they may soon be able to offer solar power in even more communities.