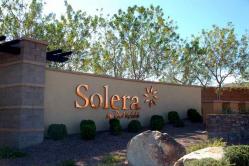 Adjacent to the sprawling Sun City Anthem community, Solera at Anthem is ideal for those who love the Henderson area in Nevada but prefer living in a smaller development. Both communities are built by Del Webb and feature many of the high-quality amenities which residents have come to expect from the leading builder of active adult communities.
Residences
With 1,750 homes, Solera at Anthem is a mid-sized active community, yet it seems small when compared to the 7,164 homes found at neighboring Sun City Anthem. Despite its smaller size, the community does have its own clubhouse with plenty of amenities to support an active adult lifestyle. Solera at Anthem also maintains a small town charm, which makes it a good choice for homebuyers who prefer a more intimate community.
Amenities
Solera at Anthem's 24,000 square foot clubhouse is the centerpiece of activity within the community. For those who like to stay in shape, the state-of-the-art fitness center is a welcome amenity. The main exercise area contains high-end cardiovascular and strength training equipment. There is also an indoor exercise pool, which is perfect for swimming laps or performing water aerobics. Gym orientation classes help new users learn more about the available equipment, while fitness classes provide group exercise options.
The clubhouse at Solera at Anthem also houses a relaxing library as well as a computer center. Hobby, game, and multipurpose meeting rooms are available for recreational use or social club meetings and events. Just a few of the interests shared by current residents include arts and crafts, billiards, bridge, chess, genealogy, mahjong, and poker.
On the beautifully landscaped grounds, the amenities continue with outdoor recreations. Four lighted tennis courts are available for day or evening games. Four bocce ball courts are also available for those who prefer this less-strenuous yet highly entertaining game.
Location
While Solera at Anthem may have more limited amenities than its larger counterpart, the community does enjoy the same great location. Perched 1,000 feet above the Las Vegas Valley, the neighborhood provides outstanding views of both the towering mountains and the glittering valley below.
There are a number of shopping, dining, and recreational attractions located within close proximity of Solera at Anthem. In fact, the fabulous Las Vegas Strip is less than 30 minutes away. Lake Mead, with its natural beauty and hundreds of miles of shoreline, is also within 30 minutes, and two shopping malls are even closer to home.
Although Solera at Anthem may seem small when compared to its larger neighbor, this mid-sized community has more than enough qualities to recommend it to prospective homebuyers. The prime location, intimate feel, and high-end amenities make Solera at Anthem a dream community for many active adults.