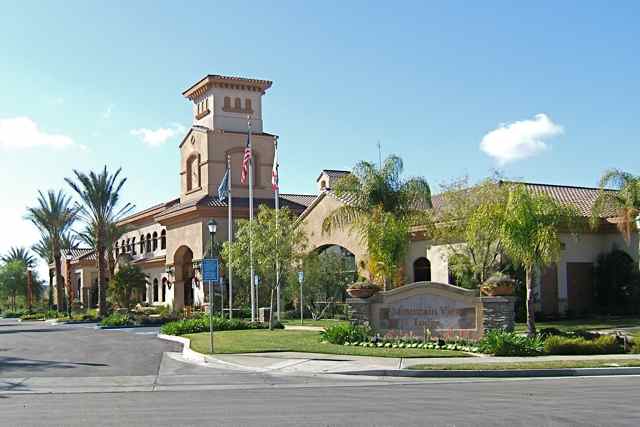 As the leading developer of active adult communities, Del Webb knows how to build a community with appealing amenities and attractive homes. Though Solera Diamond Valley may be smaller than some of Del Webb's sprawling developments, the community still offers beautifully-designed homes and plenty of amenities to support an active adult lifestyle. The community also boasts a prime location with many recreational attractions.
Set in the heart of California's Inland Empire, Solera Diamond Valley features a spacious clubhouse with numerous social and recreational amenities. The 23,000 square-foot Mountain View Lodge brings people together for many different classes, clubs and community events. The center also has the facilities needed to support these diverse activities.
Residents who want to get in shape (or stay in shape) will love the state-of-the-art fitness center which features an indoor walking track, lap pool and spa. The facilities also include an aerobics and dance studio where residents can take part in fitness classes such as pilates or yoga. These fabulous fitness options go hand in hand with fitness-related social clubs like Solera's Weight Loss Support Group.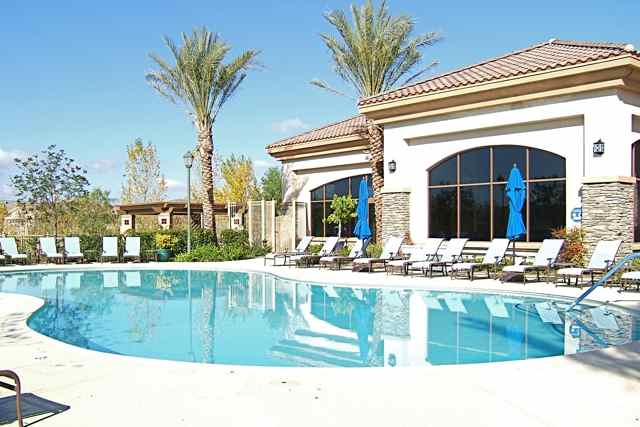 The clubhouse also hosts craft and hobby studios, a ballroom, computer station and billiards. Outside, there are two resort-style pools, walking and biking trails, two lighted tennis courts and bocce ball courts.
Creative or artistic residents can also find amenities and social clubs to meet their needs. The Mountain View Lodge has a great arts and crafts studio where residents can express their creativity through many different mediums. Artists might want to join the Water Color Creativity group, but they are also free to create on their own. Crafty residents might enjoy joining a fun social club like Babes with Beads for jewelry and beadwork, or Chicks with Sticks for knitting, crocheting and other needlework.
Other options include the Creative Cards group or the more freestyle Craft Club. The Mountain View Lodge's card and game rooms give residents space to meet up for billiards or a few hands of cards. There are card groups for residents who are looking to get in on a game, and Bunco clubs for those who prefer a spirited dice game. The clubhouse also has ample lounge and meeting space for friends to gather or meet up for Book Club or other special-interest groups.
The Solera Diamond Valley community grounds are also dotted with many recreational amenities. There are two resort-style swimming pools, two lighted tennis courts and four bocce ball courts. The grounds also include a fishing lake and extensive walking and biking trails. Solera Diamond Valley's prime location lets residents enjoy many attractions outside of the community as well.
Los Angeles, Orange County and San Diego are all located within two hours. Closer to home, residents will find a variety of shopping centers, restaurants, entertainment venues and outdoor recreations. If they don't want to explore the area alone, residents can join the community's Diamond Valley Daytrippers club and travel to many nearby destinations with friends.
In addition to all this, Solera Diamond Valley offers both new construction and resale single-family homes in sizes ranging from 1,240 to over 2,300 square feet. With affordable homes and so much to do, it's easy to see why Solera Diamond Valley is popular with active adult homebuyers.
For more information on this community click here: Solera Diamond Valley - Hemet, CA