Dave Schreiner, a former Del Webb executive, has over 20 years of experience planning, developing, and operating active adult communities. His work has given him unique insight into the challenges and rewards of active adult living. Dave currently is a Principal with Mature Market Strategies consulting firm.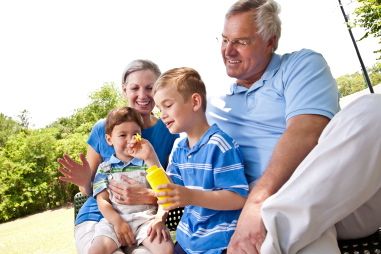 Think back to when you needed formal living rooms, date nights, and early bed times to get away from the kids and their entourage of challenges. Now as they've grown into busy adults who have their own children, your driving mission becomes staying in touch. As that great philosopher Harry Chapin once crooned, "When you coming home son? I don't know when but we'll get together soon."
Our lives were once defined by our children's requirements and activities. Now, the same defines their lives. It may be time to fight for family time. Here's a foolproof strategy for spending more time with your children and grandchildren.
Pay for Group Activities
Pay for everything, but require personal contact as the cash changes hands. That trip to the ballpark is free but comes with granddad. Those cute French manicures only come free on more than 10 fingers.
Babysit
Offer to babysit in the children's home. This covert strategy works to your advantage as you control when to arrive and when to leave. It might be a good chance to see the happy couple all dolled up before they head out to dinner.
Create a Home They Want to Visit
Create an environment that your children and grandchildren will want to and can efficiently visit. The family home in the New Jersey burbs might hold a lot of memories for you but little excitement for the younger set. The fishing cabin on the bank of the Snake River might be the most beautiful and relaxing spot in the universe for you, but the 10 hour trip to get there is sheer agony for a young family.
Your starting point is the location of the grandchildren. A short drive is better than a long drive. A short flight is better than a long flight. Inexpensive travel is better than expensive travel. If you are not easy to get to, you'll have fewer visitors.
Work hard to make the stay enjoyable. Kids sleeping on the floor is thrilling at first but then gets old quickly. Make sure the Wi-Fi is in good working order. Know where the nearest parks and pools are. Brush up on your gaming skills.
Active Adult Communities for Family Fun
One shortcut to creating an environment where your children and grandchildren will surely want to visit is to consider one of the many active adult communities across the country. Active adult communities are designed around a lifestyle that is fulfilling and entertaining for young and older alike.
Nearly all are safe with walkable neighborhoods. Almost all feature terrific parks and pools. Many offer ball fields, fitness centers, libraries, tennis courts, and gardens. Your new home will also likely have a flexible dining space able to accommodate a family dinner, nice-sized guest areas, and lots of space in a family room/kitchen/nook area called the great room, where the family can gather and interact even when engaged in a variety of activities.
Active adult communities are designed to improve the quality of life of the older adults, and designers realize that the quality of life for older adults includes enhancing family relationships. Between the great amenities and generous guest policies, your new home in an active adult community might just be the place where your family will want to spend more time with you.
So, think about moving to get closer to your family. There are hundreds of active adult communities across the country. One is sure to be right for you and right for your family.