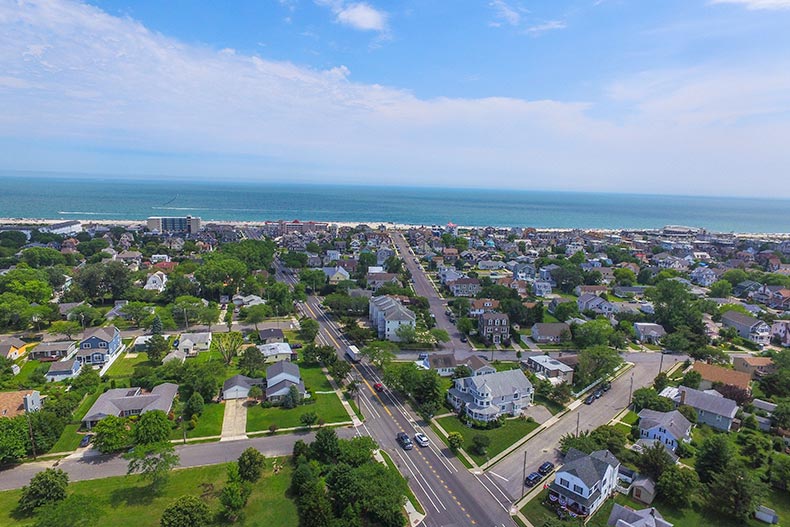 While some active adults look forward to retiring in large homes with attached garages and lawns, others prefer to downsize. 55places.com profiles neighborhoods that offer all types of homes, from single-family homes over 3,000 square feet to cozy condos under 1,000 square feet, and one of the best places to find attractive condos is in a South Jersey active adult community.
SJ is close to Philadelphia and New York City, and the region offers miles of sandy beaches, acres of preserved open space, and more shops and restaurants than you'll ever need. South Jersey also has several counties offering 55+ neighborhoods:
Atlantic County: This county includes Atlantic City and more rural areas in its western sections.
Burlington County: The largest county in New Jersey, Burlington stretches from the Delaware River to Jersey's east coast, and it's known for its agriculture and suburbs like Marlton.
Camden County: It also meets the Delaware River, and it's home to well-known towns like Cherry Hill and Collingswood.
Cape May County: This southernmost part of the state has beautiful beaches and resort areas like Wildwood and Cape May.
Cumberland County: Located west of Cape May County, this rural region is bordered by the Delaware River and Delaware Bay.
Gloucester County: Close to Philadelphia, Gloucester offers highly-trafficked cities like Deptford and less-developed ones as well.
Ocean County: Parts of it are considered to be in Central Jersey, and it's highly sought-after for its proximity to the beautiful shoreline.
Though there are 131 active adult communities in SJ, only 11 offer condos. We have listed four favorites from different counites, and some also offer attached and single-family homes in case you change your mind.
Low $100s - Mid $100s
This friendly, gated 55+ community is in Atlantic County, and it offers 188 resale condos ranging from 950 to 1,700 square feet. Each unit has two or three bedrooms, two to three bathrooms, walk-in closets, gas fireplaces, upgraded appliances, cathedral ceilings, and two parking spaces. Also, there's an active homeowners' association (HOA) that takes care of outside maintenance, landscaping, snow removal, cable, water, and sewer costs.
For a smaller property, The Village at Linwood has some nice amenities, like a clubhouse with a lounge, an outdoor pool, and a spa. Outside, there are shuffleboard courts, tennis courts, and walking trails. When you're ready for some beach time, you have your choice of exciting Atlantic City, family-friendly Ocean City, and everything between. Route 9 is a few minutes away, and it's lined with shops and services, including salons, coffee shops, medical offices, fitness centers, grocery stores, and pharmacies.
Learn more information about The Village at Linwood here.
High $100s - High $200s
Known for its well-appointed community center and golf club, RiverWinds was designed for resort-style living. Completed in 2006, it has 355 resale condo and single-family homes in a variety of floor plans.
The 88 condo units come in two models with 1,512 or 1,592 square feet, two bedrooms, two bathrooms, and lot parking. There are a dozen single-family models sized from 1,113 to about 2,500 square feet with one to three bedrooms, one-and-a-half to three bathrooms, and attached one- or two-car garages. Some have extras like sunrooms, patios, crown molding, and granite countertops. The reasonable HOA fee provides for trash and snow removal plus lawn maintenance.
More about that community center: At 112,00 square feet, this facility is a treasure trove of fitness and social activities. It boasts indoor and outdoor pools, an indoor walking track, a rock-climbing wall, and a state-of-the-art fitness center. There's also a senior center, a restaurant, and a fireplace lounge. Outside, you'll find a kayak launch, an outdoor amphitheater, trails, and gardens. The property meets the Delaware River, and it's close to Red Bank Battlefield Park, a library, and a slew of shops and services.
Learn more information about RiverWinds here.
Below $100k - High $100s
This affordable Burlington County active adult neighborhood has 500 resale attached and condo homes on an established property across the street from a ShopRite shopping center. The welcoming clubhouse is where homeowners go to play bocce or tennis, swim at the outdoor pool, or socialize. The Renaissance Club is close to Route 38, and you can take it east to the Cherry Hill Mall, Rowan College at Burlington County, Strawbridge Lake Park, and Philadelphia.
The Renaissance Club has standard condo models ranging from 900 to 1,000 square feet with one to two bedrooms, one to two bathrooms, and assigned parking. Its attached villas also have a standard model sized from 1,100 to 1,200 square feet with two bedrooms, one to two baths, and one-car garages.
Learn more information about The Renaissance Club here.
Below $100k - Mid $100s
Covington Village is an inviting, gated 55+ neighborhood in Ocean County with 360 resale condos. Its five models range from 890 to 1,165 square feet with one to two bedrooms, one to two bathrooms, covered terraces, granite countertops, hardwood floors, and parking out front of each building. The monthly HOA fees cover lawn maintenance as well as trash and snow removal.
Homeowners enjoy spending time at the private clubhouse, which has its own movie theater, banquet hall, exercise facility, and day spa with saunas. There's also a business center and outdoor perks like bocce ball courts and a relaxing pool and spa.
Covington is bordered on one side by recreation areas like Bear Swamp and the Manasquan Reservoir. The closest golf course is Howell Park, and you can find a Walmart Supercenter, a Target, a Kohls, restaurants, and other businesses on nearby Route 9.