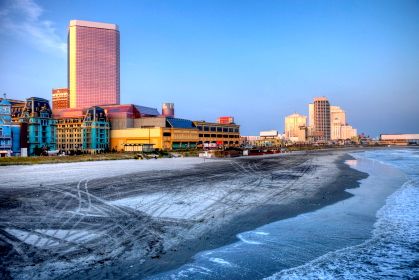 While active adult communities may have started in states like Arizona and Florida, many retirees are choosing to live in regions which experience all four seasons and are within close proximity of urban attractions. With more 55+ communities per square mile than almost anywhere else in the country, Southern New Jersey is a lesser-known retirement destination which clearly appeals to many active adults.
Though its borders may be open to debate, the Southern New Jersey area generally refers to portions of the state below Interstate 195. It includes cities along the shore as well as inland communities. The area encompasses many regions including Ocean, Atlantic, Burlington, Camden and Gloucester Counties. Some of the area's more well-known towns are Toms River, Barnegat, Manahawkin, Egg Harbor, Lakewood, Manchester, and Jackson.
Age-restricted communities are plentiful throughout the region, and potential homebuyers can find communities to meet nearly any budget or lifestyle. There are large golf or country club communities, as well as more intimate neighborhoods. There are new developments and more well-established communities.
Resort-style Communities
Southern New Jersey's largest active adult communities have anywhere from 1,100 to 1,500 residences and a variety of social and recreational amenities. Golf enthusiasts and those who are looking for resort-style living may like communities such as Westlake Golf and Country Club in Jackson, Renaissance at Manchester in Manchester, or Greenbriar Oceanaire in Waretown.
Mid-Sized Communities
The area's mid-sized communities also have plenty of amenities to offer, including spacious clubhouses, fitness facilities, hobby and game rooms, swimming pools, and sports courts. Southern New Jersey has well-established communities like Lake Ridge in Toms River, and newer developments such as Heritage Point in Barnegat or Four Seasons at Weatherby in Woolwich.
Intimate Communities
Those who prefer more intimate neighborhoods can choose from several communities which contain less than 400 homes. Although they are small, these age-restricted developments still offer community amenities such as clubhouses, hobby and game rooms, recreational activities, and fitness centers. A few to explore include The Reserve at Lake Ridge in Manchester, Horizons at Woodlake Greens in Lakewood, and Legacy at Meadowcroft in Florence.
Nearby Cities
There are many reasons why active adults may choose to settle in the Southern New Jersey area, although the most common draw is probably its prime location. The area falls within close proximity of several popular destinations, including New York City, Philadelphia, Atlantic City, Baltimore, and Washington D.C. Depending on where you live in the state, it's easy to arrange day or weekend trips to enjoy the attractions of any of these great getaways. And, don't forget the beauty of the nearby Jersey Shore!
Close proximity to these cities is also a great benefit for those who have family living nearby. Many retirees in the Southern New Jersey area have family and friends living in New York, Philadelphia, or other nearby locations. By choosing an active adult community in Southern New Jersey, they enjoy a tranquil, small-town retirement without relocating too far from the rest of their family.
Whether Southern New Jersey appeals to you for its prime location, small-town atmosphere, or four-season climate, there are certainly plenty of options for age-restricted communities. If Southern New Jersey sounds like it might be ideal for you, begin exploring the area's active adult communities and plan a visit to see the region for yourself.