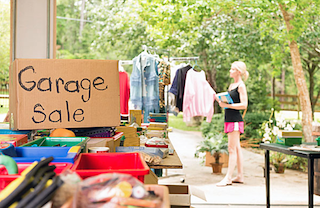 Cleaning out your closet is a great way to get rid of clutter, but it can also be a way to make some extra spending money or save on future purchases. While you aren't likely to recoup your entire purchase price, many gently-used items can be resold either online or in person. Instead of selling, you may also be able to save by trading items with friends or donating them to a charitable organization.
Sell items at a consignment shop
When you're ready to get rid of high-quality, designer-brand clothes and accessories, try selling them through a consignment shop. Typically, a consignment shop will sell your items and give you an agreed-upon percentage of the profit. You can arrange to sell at local shops or through online stores such as Poshmark or TheRealReal.
Sell items online
Items don't have to be designer-label to have resale value. You can sell pretty much anything online at sites like eBay or Craigslist. But don't limit yourself to these online stores. You may also be able to sell gently-used items to friends through Facebook or to neighbors through a local Facebook yard sale group.
Hold a yard or garage sale
Despite the popularity of online shopping, many bargain hunters still love to buy items at local yard sales. Arranging a yard sale gives you a way to sell a variety of items at one time. Advertise online or through the local paper and put up signs to draw more shoppers. Working with other neighbors for a multi-home yard sale is another great way to attract a larger crowd.
Organize a swap party
Instead of selling your gently-used clothes and accessories, you may be able to save money by trading them for something new-to-you. A swap party lets you and your friends trade the clothes and accessories you no longer want. Everyone brings the items they no longer want, then arranges their own fair swaps. Add some snacks and drinks to make it even more fun.
Donate gently used items
While you donate items for free, you may be able to make some money back in the form of tax deductions. If you want to deduct the contribution, be sure you donate to qualified organizations. Don't forget to save the receipt as proof of your donation as well.
Before you spend money updating your wardrobe, see if you can make some money from the clothes and accessories you no longer want. Cleaning out your closet frees up space, reduces clutter and just may bring in some extra cash.